Deccan Chargers' stand-in skipper Cameron White on Wednesday termed the absence of their star pace bowler Ishant Sharma, who has been ruled out of the fifth edition of the Indian Premier League following an ankle surgery, as a "big loss" for the team.
"There's no doubt about that...it's a big loss. We have to step ahead and fill the void by playing well," said White.
- Schedule: Indian Premier League 2012
Ishant, who was suffering from a bone impingement on his left ankle, underwent a surgery a week back. He played the four Tests in Australia but missed the tri-nation ODI series.
The fast bowler had been carrying the problem since the England tour last year. After rehabilitation at the National Cricket Academy (NCA) in Bangalore, he was able to play the rest of the season. But the injury resurfaced during the Test series in Australia.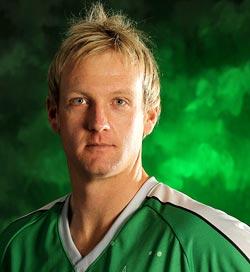 The India pacer and South African speedster Dale Steyn were the strike bowlers for the Hyderabad-based team.
Chargers will kick off their campaign against Chennai Super Kings in Vizag on April 7 and coach Darren Lehmann exuded confidence that his wards would be able to put it across the defending champions.
"We are confident of defeating the Chennai side," Lehmann told reporters on the sidelines of a programme in Hyderabad.
White, who will be leading the side in their opening game against Chennai in the absence of Sri Lanka's Kumar Sangakkara said, "The match against Chennai is going to be a tough one but we are hopeful of winning against them."
Lehmann said he wants his team to play attacking cricket.
"We just want to play well and are looking forward to some attacking cricket," he said. 
Reacting to a query, Lehmann said that Mumbai Indians and Chennai Super Kings are the teams to watch out for in this year's IPL.
Parthiv Patel, who will begin his new innings with Chargers this season, said he has prepared well for the tournament and is looking forward to perform with the bat.
"It's another opportunity for me to perform and I am getting to play a lot of games. I am hopeful of getting to the next level by performing well," he said.
Photograph: Hamish Blair/Getty Images