Losing four wickets for not too many runs inside six overs was the reason why Kolkata Knight Riders were knocked out of the Indian Premier league, feels skipper Gautam Gambhir.
Kolkata lost to Mumbai Indians by four wickets in the Eliminator at the Wankhede stadium on Wednesday.
Put in to bat first by Mumbai Indians skipper Sachin Tendulkar, Kolkata were reeling at 20-4 at one stage before Ryan ten Doeschate revived the innings with a brilliant unbeaten 70 off 49 balls.
"We lost the game in the first six overs, but recovering it 147, we did a good job; but I think it was the turning point of the game," said Gambhir, after the loss.
"To be honest, we didn't apply ourselves out there. We took too much of risk in the first six overs as we were looking to score quickly.
"Sometimes in Twenty20 it favours you, sometimes it doesn't. But they bowled really well and bowled to good areas... and credit goes to Mumbai bowlers," he added.
Asked about the spinners being ineffective, especially Iqbal Abdullah, Gambhir replied, "They have done a fantastic job throughout the tournament. Sometimes you have a bad day. It's not that they didn't try hard.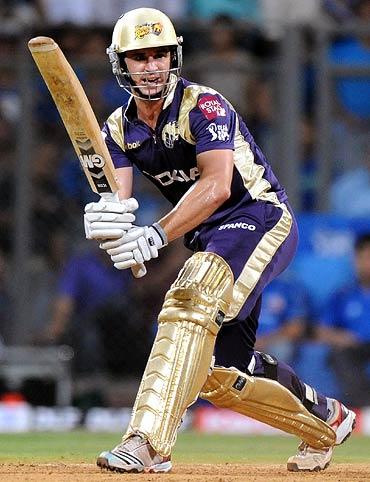 "But credit to us; we did take the game to the last over. Credit must go to Iqbal, who has been the stand-out bowler for us; Ryan (ten Doeschate), who batted brilliantly today. Coming from The Netherlands, where you hardly play cricket, he has done a fantastic job for us," he added.
The IPL journey may have ended for Knight Riders, but they still have a chance to qualify for the Champions League, which is scheduled to take place later this year.
"We still have a chance to qualify for the Champions League. The format of the tournament is such that anything can happen. In the qualifiers we will play against Trinidad and Tobago, one team from Sri Lanka and one from New Zealand out of which two teams will qualify."
Meanwhile, Mumbai Indians' James Franklin felt the bowlers did a fantastic job in restricting Knight Riders to under 150.
"We did a fantastic job in both the innings. First, with the ball, we did a great job to keep them under 150. Then Harbhajan saw us cross the line," said Franklin, who was unbeaten on 29.
"Judging by yesterday's game between RCB and CSK, 160-170 was par score, but our bowlers did a fantastic job in restricting them," he added.
Franklin also pointed out the fact that the start was also crucial to Mumbai's run chase.
"Sachin and Blizzard gave us a tremendous start, which laid the foundation, but we lost too many wickets in the middle and put ourselves in pressure," said Franklin.
Looking ahead to the next match against Royal Challengers Bangalore, Franklin said, "Look again, it's sudden death. They have had an extra day's rest and they obviously are a good side."
"But we are going in late tomorrow there, so it will be about resting, then assess the conditions when we reach there," he added.