Rajasthan Royals' skipper Shane Warne feels that dismissing Deccan Chargers captain Kumar Sangakkara and dashing South African batsman JP Duminy was turning point during their eight-wicket win in Hyderabad on Saturday.
"Deccan have got a pretty good side, but getting Sangakkara and Duminy out was the key," Warne told reporters at the post-match press conference.
"Dan Christian played well for them. But had we not got those two breakthroughs, it could have been a bit harder out there in the middle. Those two wickets slowed the proceedings," Warne added.
But the Australian legend conceded that there is still lot of work to be done especially with the younger players.
"I think we have still got lot to work to do. From the point of view of the first game with so many young kids, we have done well. We don't have any superstars in our line-up but the youngsters have really worked hard."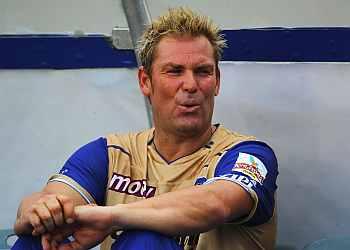 About the younger players in his side, he said that they were bit nervous which resulted in a few overthrows.
"I think the young kids were bit nervous with the overthrows. But, there's little bit to learn in the field just through experience, and if you look at the bigger picture, our experiments paid off," the satisfied RR skipper stated.
Warne also attributed promoting Botha also worked in their favour.
"Experimenting with Botha to promote him up the order at No. 3 was our plan before the game and that worked really well. The little things we tried all seemed to have worked well in this game. That's a nice way to start considering during the last three editions, our opening games have been pretty poor."
Warne admitted that it was getting close in the end. "We felt like we needed three boundaries in the last those four overs and then Ross hit that six and we won with eight wickets in hands. Ross brings in a lot of experience.
It's a nice blend of youth and experience with both Ross and Botha in the side," Warne said.
"It's (the victory) a pretty convicing win," he added.
When asked if he enjoyed playing cricket here (in Hyderabad), Warne said, "For an old man like me, it is quite a nice to start with a win."
The master tweaker said that he had done a lot of fitness training in the lead upto the event and it was "nice to have some muscles."
Warne feels that more he bowls in match situation, better he would get.
The skipper was a bit worried about Jacob Oram's groin strain. "We would take a call tomorrow. I hope it's not the end of the tournament for him."
Sangakkara on his part said, "We fell short by 20 runs on a good batting strip. But I would give credit to my bowlers as they kept us in the game."