Australian spin legend Shane Warne on Thursday lavished praise on his long-time tormentor Sachin Tendulkar, declaring the iconic Indian batsman as the greatest cricketer he ever played against.
Rajasthan Royals skipper Warne, who will play his last Indian Premier League match against the Mumbai Indians on Friday, said it was only appropriate to end his IPL stint as a player against Tendulkar.
"Sachin is the greatest player I have played against. It's appropriate that my last game is versus Sachin," Warne said.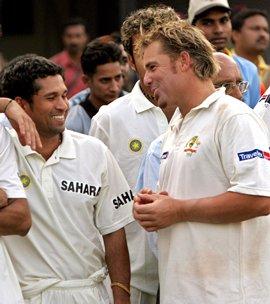 "Sachin has been my friend for a long period of time. We have bit of laugh with each other, crack jokes. I hope Sachin does not smash me all around the park tomorrow," he said.
- If Ganguly can, so can I: Martin Crowe
Warne was fined a hefty US $50,000 following his public spat with Rajasthan Cricket Association secretary Sanjay Dixit, and the the 41-year-old Australian said he fails to understand why the RCA secretary too was not penalized.
"Unfair that I get fined while Sanjay Dixit gets away with saying whatever he feels like," Warne told NDTV in an interview.
"My fight with Dixit was immature on both our parts," he added.
Warne escaped a ban but was fined heavily by the IPL's disciplinary panel for calling Dixit a "liar and egoistic" after an IPL match in Jaipur, forcing Rajasthan Royals owner Shilpa Shetty to intervene and apologise for the incident.
Dixit, who is also an IAS officer, had blasted Warne and Tendulkar on Twitter and trashed Warne in a website article.
"I had to face the consequences but he got away simply. I don't think it's fair. It should be something same for both of us. But the story is this way and one can't do much.
"I had seven days to decide on a counter claim but I did nothing. It was a silly incident and pity that it got way too much attention," he said.
Despite his spat with the RCA secretary, Warne remained positive about being associated with the Rajasthan team in the future.
Photograph: Reuters