It is fresh challenge and Yuvraj Singh is relishing it.
The 29-year-old, fresh from his exploits at the ICC World Cup where he won the Player of the Series award for his significant contribution in Team India's triumph, has settled down in his new role as the captain of the Pune Warriors.
"I feel good and take a lot of pride in that," said Yuvi, when asked about his new role.
"It is a lot of responsibility also when you are captaining 11 players, a few of whom are top players," he added.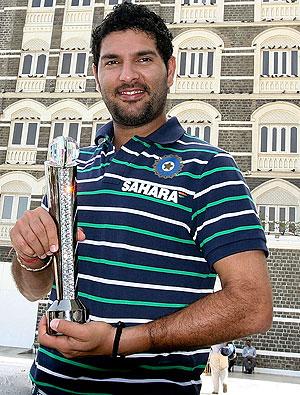 Yuvraj had captained the Kings XI Punjab outfit in the first two editions of the tournament, leading them to the last four in the inaugural season. However, he had been relieved off his duties for the third edition, Kumar Sangakkara replacing him at the helm of the Mohali team.
The fourth edition of tournament though witnessed two changes as regards the player. Yuvraj was part of a new team, the Pune Warriors. And he was back as a captain. 
To his credit, the 29-year-old led the debutants to comfortable wins in their two opening games --against Kings XI and fellow debutants Kochi Tuskers Kerala respectively.
However, the Pune side has followed up the two wins with two losses. The Warriors were beaten at home (DY Patil stadium) by Delhi Daredevils on Sunday, despite a magnificent unbeaten 66 by their captain.
And on Wednesday, they lost an away game to last year's beaten finalists, Mumbai Indians. Yuvraj remained unperturbed with the twin defeats though.
"The last game (against Mumbai) was for the first time in four games that we did not perform," he explained, adding, "In all the three earlier games we had played well.
"Against Mumbai, we just didn't play to our potential." The captain was quick to negate any negativity that might have risen following the twin defeats.
"We made a match of it despite putting up just 118 runs on board against Mumbai Indians," said Yuvraj.
"Despite not scoring enough runs and not taking early wickets, we still didn't let them score their big shots and ensured the match went to the last delivery. I am proud of the way the team played and gave the crowd some anxious moments, rather a value for their money." Yuvraj added, saying, he wasn't bothered with the team he had at his disposal.
"There's no problem with my team and I am confident that we'll do well," he said.
The captain of the Pune Warriors seemed very confident about his team's chances in the tournament and said they will spare no efforts in making their debut season a memorable one.
"T20 is a very unpredictable format," said Yuvraj, adding, "The matches can go either way.
"We won two games, and lost two. If we win our next two, we might again be on top.
"It's depends on how you look at it. In any case, you need to back your instincts."
His form in the World Cup should give him enough confidence to perform his role as a player and a leader to optimum and ensure his new side a good beginning.
And, as we said in the beginning, he is already enjoying being the captain again.