Delhi Daredevils skipper Virender Sehwag blamed his top-order batsmen for their second consecutive defeat in the Indian Premier League against Rajasthan Royals in Jaipur on Tuesday.
"The top order, including myself, is not firing. And the likes of Unmukt Chand who have a role of giving stability to batting were too not been able to play out 15 overs. Still we did well to recover from 36 for 4," the Indian opener told reporters after his team lost by six wickets here.
"Venugopal and Warner played very well but the Rajasthan Royals batsmen played with a purpose and cool head to romp home," he added.
Sehwag, himself, has struggled with the bat with scores of 19 and 4 in the last two innings.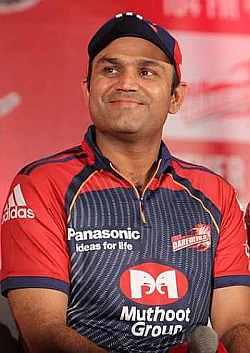 Asked about his recent slump, Sehwag said he has been playing in the same fashion for past 12 years.
The two consecutive defeats have pegged back the Daredevils but Sehwag said he was not reading too much into the losses.
"We started in same manner but won few games to bounce back. I too would try and give our team a good start," he said.
His counterpart, Rajasthan Royals skipper Shane Warne was mighty pleased with his teams effort.
"Our ground fielding was the best in IPL. We had brought in Shaun Tait for raw pace because we had seen Delhi crumbling against (Lasith) Malinga. Tait bowled beautifully and got rid of Sehwag early on," he said.
"Rahul Dravid too played a good knock. I have talked to him over the past few days and told him to knock the ball around. He himself had worked hard on his game. He is one of the greatest cricketers and a gem of a person.
"Indian junior captain Ashok Menaria too is a useful cricketer. He in IPL-4 is like Ravindra Jadeja in first IPL for us. But he is better because he can bat between 4-7 in batting order as per the situation," he added.
Warne also praising the wicket and said it was the best wicket he has played on in recent times.
"There was something for everyone. The pacers got the bounce, the ball spun and the batsman could play the strokes," he added.