Relieved after snapping their losing streak, Rajasthan Royals skipper Shane Warne said his team responded well to the pressure and showed intensity in its eight-wicket victory over Kochi Tuskers Kerala in Jaipur.
Speaking after the match on Sunday, the Australian spin legend said the past week was very tough and the losses really hurt the team.
"We had to play four matches in seven days and that too in far corners. We also played pretty disappointing cricket but I am happy with the way the boys have come and responded," Warne said.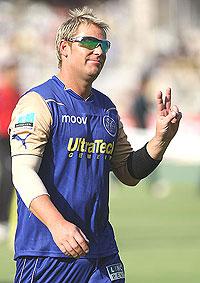 "After three dismal losses we sat together and had honest chats among us. The sessions with trainer Jeremy Snape too helped us a lot. We were back at the drawing board and came up good. The losses had hurt us and I am happy we have responded well with intensity," He said.
Asked if Sunday's opening line-up with Rahul Dravid and Shane Watson at the top would be maintained, Warne said the playing eleven is chosen keeping in view the opposition.
"(Shaun) Tait took three for 23 but could not find a place today because pitch seemed to be low. I feel we need more pace in our attack. Watson and Siddharta (Trivedi) are doing well but still we need more pace in our attack," he said.
"We are happy to be back home and if we win remaining four here we can be among top four. But anything can happen in Twenty20. See, we beat Kochi easily but they had beaten top teams like Chennai, Mumbai and Kolkata in their previous three matches," he added.
Warne also felt the toss didn't play a role on Sunday.
"The toss was not really that important. See how easily we chased," he added.