Unlike his compatriot Jacob Oram, who said he could not connect with the IPL, Kiwi batsman James Franklin said he was enjoying being part of the Indian Premier League.
After playing just two IPL games, Oram returned to his country and said he felt disconnected with the event due to after-match parties, heavy presence Bollywood stars and fashion parades.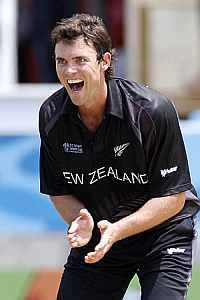 Franklin yet again played a good hand in Mumbai's win as he scored an unbeaten 29 in a tight situation.
"I have enjoyed it. It's my first experience. I'm with a great franchisee Mumbai Indians. I have really enjoyed thus far. Hopefully we have two games to go and we do go all the way. It's been pretty good fun till now. The passion for the game is amazing here. I have been here for four months since the World Cup. I'm still enjoying my stay here," he said at the post match press conference. 
"After nearly every game there's an after party, there's Bollywood stars there and fashion parades; the drinks are free and the cheerleaders are around. It's a different world. 
"Sometimes you wonder if you're here for cricket or not. Ultimately you are. It is good fun, but at the same time I don't think it's reality," Oram had said. 
About Wednesday's match, Franklin lauded the effort of his bowlers for restricting Kolkata Knight Riders to 147-7 and said it gave them the control of the match. 
"I thought we did a really a good job to restrict them under 150. In the last game here between Chennai and RCB the par score was between 160-165. Boys did a great job with the ball. We had a great start with the ball. It got us on the frontfoot and we did hold on from there," he said.
The left-hander, however, felt that the team left it till the end and brought themselves under undue pressure. 
"We are leaving it too late at the moment. We had a great start with (Aiden) Blizzard and Sachin (Tendulkar). They gave us a good platform. If we are trying to seek perfection weprobably lost too many wickets in the middle and put too much pressure on ourselves. Harbhajan came and played a couple of good shots and we crossed the line." 
Franklin, who had scored a quickfire 45 not out in Mumbai Indians' thrilling five wicket win over the same rivals in Kolkata on Saturday, felt that victory didn't mean too much coming into this game.
"Every game is a new start. The boys weren't thinking what happened in Kolkata two nights ago. We started afresh. I'm sure KKR had done the same," he said. Franklin said he expected a tough challenge from that Royal Challengers Bangalore in the second qualifier. 
"That game is sudden death. A semi-final. Royals lost last night. But they have an extra day's rest. They are a tough side. They have done well in the last two-two and half weeks and have won many games in a row. So its going to be a tough game. We are looking forward to it."