The West Indies players' IPL exploits can hardly make up for their disappointment of being left out of the national team, and all-rounder Dwayne Bravo is hoping that the showing of Chris Gayle and Co will make the selectors back home realise what they are missing.
Bravo said he is extremely proud of his fellow-Caribbean players, especially Gayle, who has already hit two centuries in the fourth edition of the Indian Premier League.
"I am happy in the manner Chris has been performing. You feel proud when a fellow-West Indian performs. It feels nice that West Indians are doing well in the Indian Premier League. May be we are not playing for the national team, but the selectors will realise what they are missing," the Chennai Super Kings player told reporters after the 18-run win over Delhi Daredevils in Chennai on Thursday night.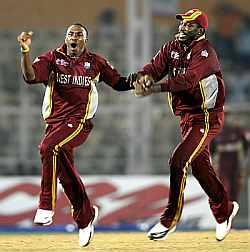 Bravo, Gayle and Jerome Taylor are among the players who joined their IPL franchises after being overlooked for the ongoing home series against Pakistan.
The players were recuperating from injuries before the national team was announced and the Board has accused them of not completing their rehabilitation in their hurry to participate in the IPL.
Bravo joined Chennai Super Kings late but insisted that he didn't have any difficulty in gelling with the team.
"So far, it has been great. The management and the players make me feel at home. We have gelled very well," he said.
About the match against Delhi Daredevils, Bravo said the team did well in keeping the pressure on the opponents, which worked wonderfully.
"Early on in their innings, they had a chance. But they kept losing wickets. We kept up the pressure and forced them to make mistakes," he added.
Bravo is hopeful that CSK will finish their home engagements, against Kochi Tuskers Kerala on May 18, on a memorable note.
"We would ideally want to finish off with an all-win record at home," he said.