Delhi Daredevils skipper Virender Sehwag made a candid admission that his boys failed to negotiate Lasith Malinga's lethal yorkers as many of them have not faced him earlier.
"I can tell you that any youngster who is facing Lasith Malinga for the first time in his career will find it difficult to read his yorkers. It is a difficult delivery to face if you don't have the experience," Sehwag said.
Sehwag also informed that he had told his teammates to be careful about Malinga's yorkers.
"When Malinga bowls a length ball, it's like any other delivery. I told my boys that they should look out for the yorkers and slower ones."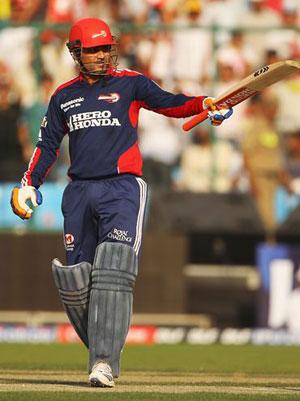 Not many bowlers in the world have succeeded in bowling a maiden over to Sehwag and that too in the T20 format. But Malinga's second over on Sunday saw the Delhi dasher playing out six dot balls.
Asked about the reason behind that, Sehwag said, "My idea was to shield my partner from facing Malinga. Whenever Malinga came into bowl, I thought that I would face him."
Asked whether Malinga proved the age-old theory that there is no substitute of pace even if the track is as slow as the one we have at the Feroz Shah Kotla here, he said, "But I don't think you can judge a pitch by Malinga's bowling. He was only bowling yorkers and you don't need any assistance from the strip to do that. Kotla track is still on the slower side."
Sehwag feels that a total of 120-130 could have been a good one this track.
"It's not possible to defend a score like 95," he said.
Delhi had Daniel Vettori during the last three seasons and the skipper feels that they are missing a "world class spinner" in their squad.
But Sehwag dismissed the notion that the team would miss his off-breaks. "Not in this format," he smiled.
The concern for the Delhi team remains its batting which looks thin on experience.
"I believe we have some talented players in Warner, Aaron Finch, Unmukt Chand. They need a bit of experience and they would do well as the tournament progresses. I also know that I need to bat as long as possible so that we can put up a big score," Sehwag said.
On Tuesday, Daredevils will take on the Shane Warne-led Rajasthan Royals and the captain is keen on getting his combination right for the game.
"We have to get our combination right. So that we can get some momentum going our way," he concluded.