Captain Cool, Lucky Mascot or Man with the Midas touch?
Call him whatever you want to, but fact remains that whatever Mahendra Singh Dhoni touches turns to gold.
Less than two after leading Team India to their first World Cup title in 28 years, the 29-year-old was a winner again; on this occasion, leading Chennai Super Kings to a successful defence of their Indian Premier League title.
The holders scored a comprehensive 58-run win over Royal Challengers Bangalore in front of their home fans at the MA Chidambaram Stadium in Chennai on Saturday. 
And at the end of it all, there was one man flashing a wide grin -- MS Dhoni. It was his fourth major triumph as captain in less than a year -- IPL III, Champions League T20, ICC World Cup and now IPL IV.
"You can say we saved our best for the last," said Dhoni.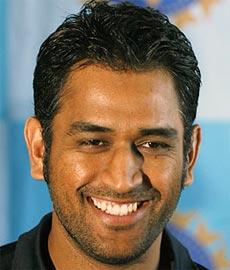 The Chennai captain expressed satisfaction over the effort made by his teammates, especially in the final.
"As a team you want to show intent in a final and show you want to win it," said Dhoni.
"And that's what our batsmen did," he added, before proceeding to complement his openers -- Murali Vijay (95) and Michael Hussey (63) -- for their efforts (read 159-run stand).
"Vijay and Hussey gave us a great start and remained at the crease till the 15th over," explained Dhoni, adding, "It helped us maintain the momentum and score over 200 runs eventually."
He also made a special mention of R Ashwin, the spinner who took three for 16, including the in-form Chris Gayle for a third ball duck, to derail the Bangalore chase at the very outset.
"Ashwin bowled really well," said Dhoni, describing the spinner's effort as a "very contributive performance".
Dhoni was quick to admit that the second title is more satisfying.
"Last year we struggled a bit to make the semis," he explained. "This time, it was much more comfortable.
"Moreover, it is also special, because the IPL schedule was tough, as it came just after the World Cup."
The 29-year-old was also ecstatic that his team won the fair play award.
"I am happy to have also won the fair play award. People say you need to play hard to win.
"We have shown you can play fair and still win."