Mumbai Indians might have virtually secured its place in the play-offs of the ongoing Indian Premier League but captain Sachin Tendulkar has warned his team-mates against any complacency, saying consistency is key to success in the ongoing Twenty20 tournament.
Mumbai outclassed Delhi Daredevils by 32 runs at the Wankhede Stadium on Saturday and continue to lead the points table with 16 from 10 matches.
"I think in all departments we have done well, batting, bowling and fielding. But we have to continue to be consistent," Tendulkar said after the match.
He lauded the entire team for the comfortable victory, but singled out Munaf Patel (2/29), who was athletic at the field, and Aiden Blizzard (37 off 23) for special praise.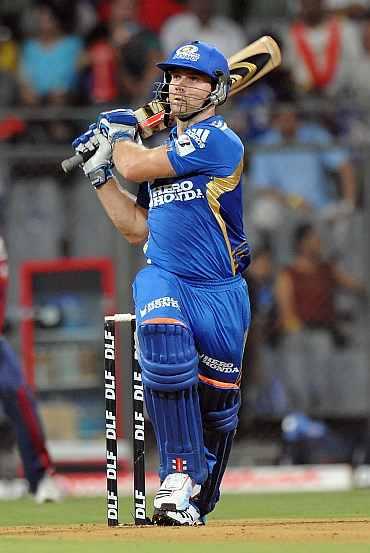 "Munaf's been terrific; his attitude has been fantastic. We got off to a brilliant start, courtesy Blizzard. He batted beautifully at the start," the Mumbai skipper said.
With this loss, Daredevils are out of the play-off race and a visible disappointed captain Virender Sehwag put the blame on his top-order for their collective failure.
"Very disappointed, because our top-order didn't click today. It is very difficult to chase 180 when you lose four wickets for seven runs," he said.
Asked whether Daredevils were completely dependent on him this season, as when he clicked the Delhi outfit won, Sehwag said, "I think if you look at the history in this season, that is true."
Mumbai batsman Ambati Rayudu, who scored a man-of-the-match winning 39-ball 59, expressed hope of his impressive performance in this year's IPL fetching him a call to the national team.
Together with Rohit Sharma (49 off 32), Rayudu added 87 runs in just 56 balls to guide Mumbai to an imposing 178 for four.
"I'm really happy with the way I played, and the partnership with Rohit (Sharma), who also played well today.
"It is a dream to represent the country. I'm used to keeping wickets, working hard on it and hope to improve it," Rayudu said.