Former West Indies captain Chris Gayle on Thursday clarified his decision on giving the entire home series against Pakistan a miss for the lucrative Indian Premier League (IPL), stating that he was left with little choice after being ignored by the national selectors.
The explosive opening batsman, who on Wednesday joined the Daniel Vettori-led Royal Challengers Bangalore after Dirk Nannes was ruled out with an injury, said an uncertain future forced him to accept the IPL franchise's offer.
West Indies Cricket Board (WICB) reacted angrily to Gayle's decision, saying that the move is "unacceptable and disappointing".
The 31-year-old Jamaican was critical of the remarks and said, "I was actually forced to make this decision based on what was happening around me and based on what has happened to players -- (Ramnaresh) Sarwan and (Shivnaraine) Chanderpaul."
The left-hander added that after getting injured during the recently-concluded World Cup he was left at his own and had to pay all expenses for medical treatment in Britain before flying home.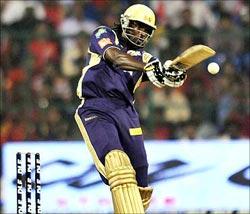 "I took it upon myself to commence a rehabilitation programme with my personal trainer," said Gayle.
"A group of players were selected for a training camp in Barbados, and I never got a call, nobody spoke to me, and I decided to leave it alone," the swashbuckling batsman told 'KLAS Sports Radio' in an interview in Jamaica.
"I continued my training programme, and I came to find out via the media that a Twenty20 squad was announced, and a One-day International squad was announced, and I was stunned when I saw a big headline in the newspapers, 'Gayle, Sarwan, Chanderpaul dropped'," he said.
Gayle also revealed that he was threatened of exclusion from the World Cup for asking whether the tournament contract was approved by the West Indies Players' Association.
"I got a reply, copied to the three selectors and the coach and the lawyer and the CEO himself stating, Chris, we have someone on standby for you so if you don't sign this contract right now, basically you will be replaced for the World Cup," he revealed.
"That hurt me so much to believe that they are talking to a person who just captained West Indies and they actually dealing with me like that. That was unfair.
"I have served West Indies for many years, but I was disrespected a lot, and I have been playing under a lot of pressure," Gayle added.
The batsman felt the least the Board could have done was to call him to the training camp, and assess his fitness before making a decision about the team.
"The only communication I have had with anyone connected with the WICB was when I sent a text message to (team physio) C J Clark, and gave him an update about how I was doing.
"I told him I was feeling good, the progress I was making, I was running, I was in the gym, and working. His only response was that he would send a fitness programme, which I did not receive until the IPL offer had presented itself."
The outspoken Jamaican, however, made it clear that he is not ready to end his West Indies career as yet.
"I'm still the hardest fighting cricketer for West Indies. I go on West Indies field with broken finger and bat on one leg. You know who's the most hardcore cricket for West Indies. Chris Gayle. Ask anyone that," an emotional Gayle said.
West Indies is scheduled to play five ODIs and two Tests against Pakistan apart from one Twenty20 international, which gets underway at St Lucia later today.