Pakistan captain Inzamam-ul-Haq has described the six-match ban imposed on Indian captain Sourav Ganguly by the International Cricket Conference for slow over rate as 'a bit too harsh'.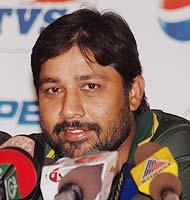 "I am also captain and tomorrow it can happen to me as well. I feel that the ICC decision of a six-match ban on Ganguly was a bit harsh," Inzamam said in New Delhi on Saturday.
He complimented his team for bouncing back in the series to take a lead 3-2, after losing the first two games of the series.
"When we were in Australia we did not do well. But in this series both in the Test matches and one-day games my boys have done good work to come back from behind and level the Test series and in the one-dayers we have now won three matches in a row after losing the first two one-dayers. The boys have shown self confidence," he said.
He did not agree with the suggestion that Shahid Afridi was not allowed to play his natural game by the team management.
"I think he has always played his natural game," said the Pakistan captain.
| | |
| --- | --- |
| | Also Read |
| | |
Inzamam believes his team has learnt to fightback and was able to stage a comeback in the series even after losing in the first two matches.
To a question on whether there would be any additional pressure on his team as Pakistan President General Pervez Musharraf will also be present at the ground, he replied: "I think the pressure would be equal on both sides because the head of state of India, Prime Minister Manmohan Singh would also be at the ground."
He spoke highly of the performance of Danish Kaneria, Mohammad Sami, Abdul Razzaq, Naved-ul-Hasan and others who gave good account of themselves in both Test matches and the one-day series.
He denied that Pakistan team was violating the ICC code of conduct by allowing Shoaib Malik to bowl despite the fact that his bowling action is under question.
"There is nothing in the rule book which says that a bowler cannot bowl till his action is cleared. So we are asking Malik to bowl," he explained.
Pakistan won the last games batting second, and captain Inzamam was not unduly worried with the pitch.
"I have not seen the pitch. I guess it would be the same for the Pakistan team as it would be for the Indian team. We should have a good contest. As far as the team composition is concerned I would decide it tomorrow morning after another look at the pitch," he said.
Photograph: Ranjan Basu/Saab Press