Aminul Islam will always be remembered as Bangladesh's first Test centurion. He attained the milestone in their first Test, against India in November 2000.
Famously referred to as 'Bulbul', the 39-year-old played 39 One Day Internationals and 13 Tests between 1998 and 2002. He was captain of Bangladesh in the 1999 World Cup and led the team to that historic victory over Pakistan, which he believes is the country's "greatest moment in cricket".
Even Islam was amazed by Bangladesh's recent giant-killing run at the 2007 World Cup, but he believes the team deserved the success for the hard work it put in.
"If for some luck, we could have gone all the way to the semis; may be next time."
He was disappointed not to find his hero, Sachin Tendulkar, in the one-day squad for the ongoing series.
"Why didn't you bring Sachin and Sourav [Ganguly]?, he asked. We want to see them play."
Islam, who is into coaching nowadays, spoke with Special Correspondent Harish Kotian on eve of the second one-day international in Dhaka.
How does it feel to see Bangladesh do so well at the World Cup? You also played a big part in it.
I was lucky that I was involved in every milestone of Bangladesh cricket, starting from the ACC Trophy, the ICC Trophy. Then we played in the World Cup [in 1999] and then we got the one-day status and then Test status; in each of them I was there. So, that way, I am a bit lucky that it happened in my playing period.
Talking about that period -- Bangladesh getting the ODI and Test status --- till now, when they are consistently beating top teams, what is difference between then and now?
Actually, Bangladesh has been playing one-day cricket for around 20 years now. But for the last 6-7 years it has been a different story. When we used to play for Bangladesh we used to play only a couple of matches in a season, but now they play 25-30 matches in the entire season.
Also, now the players are in good physical condition and they are very young. At a very young age also they play around 30-40 matches, so they get good experience early in their career, and get used to the top league quite early.
So many Bangladesh youngsters are now making their mark in international cricket now. It was quite different in your time when you were the sole batting hope and there was no talent coming through… .
When we played we had a very competitive Dhaka league in those days. We had top players like Ajay Jadeja, Arjuna Ranatunga, Wasim Akram, Neil Fairbrother and Sanath Jayasuriya playing in the league then, so we had a taste of international matches from those matches.
I was lucky that I batted for Bangladesh at number four for many, many years and I don't know how successful I was. I was around some very good Bangladesh players, like Akram Khan, Minhajul Abedin, Enamul Haque and many others.
After their fantastic showing in the 2007 World Cup, Bangladesh are no longer considered as minnows. Whom would you give the credit for this turnaround?
Obviously, to the last few captains, like Akram Khan, Habibul Bashar and Khaled Mashud. More so, to Bashar, because after he got the captaincy Bangladesh have won many matches.
Also, to key players like Mashrafe Mortaza and Mohammad Ashraful, who have played some fantastic cricket for Bangladesh. Also Mohammad Rafique; I mean, I would like to give all the players credit.
Bangladesh seems to have done well recently against India, having won two of the last four matches before this series. You also did well against India, remembering that famous century of yours in Bangladesh's first ever Test against India. Is there is extra motivation for you guys when it comes to playing India?
I think India is one of the top teams in the world and Bangladesh has always been a follower of Indian cricket. India has had so many stars like Sachin [Tendulkar], Sourav [Ganguly], Rahul [Dravid], [Javagal] Srinath, Anil Kumble and others, though it has never affected us in a match.
Bangladesh has been lucky in a way that it has always played some good cricket against India. One of the reasons for it, I think, is because both the countries have similar type of wickets and in most of the home matches we have done well against India.
Your greatest moment was that century on debut in Bangladesh's first ever Test match, against India in November 2000. How was the feeling on achieving that feat?
That knock of mine is quite old, but it still feels like I have done it yesterday.  So many times I have heard from people about it, it is like a life achievement for me.
I remember, I was struggling a bit those days. I had lost my captaincy before the start of the series and I was struggling to score runs. I had a very bad time in South Africa, so I was not sure whether I would play in that Test match against India.
But I must give credit to my captain, Naimur Rahman, who included me in the team and coach Eddie Barlow, who helped me a lot in those days. I had the highest level of determination and concentration for that particular match.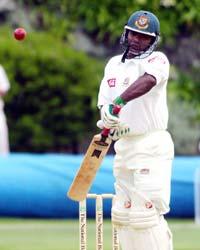 It was Bangladesh's first ever Test match. How was the general mood in the dressing room?
India had a bowling side in Javagal Srinath, Zaheer Khan and Ajit Agarkar for that match. Bangladesh had never played a Test before so we had no idea what Test cricket was.
So I just thought of keeping on batting. I was a bit slow at the start of my innings but one good thing I did was concentration and good shot selection. I also remember that when I was 90 my partner at the other end, Khaled Mashud, told me in Bangla 'Bulbul bhai, you are close to your hundred', so then I remembered an innings from my friend in India, Pravin Amre, who scored a century in his debut Test match in Durban [in 1992].
So I was thinking that Amre had got a century in his first Test match, so even I could get a hundred in my first Test match.
Also, another memorable thing on that day was that when I completed my hundred, my hero Sachin Tendulkar came up to me, shook my hand and congratulated me. I can never forget that moment.
Your hero, Sachin Tendulkar, has come under a lot of flak recently. After a poor showing in the World Cup, there have been calls for him to retire. Do you also believe that the master batsman is past his prime?
I think Sachin has already finished his best. He is already 34 and he has got all the experience with him, scoring so many hundreds and thousands of runs in international cricket. So with the experience that he has got, if he can keep himself fit, I think he can play for another few years easily.
He can still produce match-winning performances because he has got so much experience.
I still enjoy him batting. I also enjoy Brian Lara's batting, but he now has retired. But Sachin is Sachin and he is a great player.
Talking about Bangladesh's World Cup performance, did you expect them to beat teams like India and South Africa and qualify for the Super Eights stage?
Bangladesh played really good cricket in the World Cup, especially against India.
Honestly saying, it was a difficult task for India to make it to the Super Eights considering they had teams like India and Sri Lanka in their group.
Bangladesh captain Habibul Bashar and coach [Dav Whatmore] had said their target was to play in the second round, but we had a feeling that they would not make it.
But they made it by playing some good cricket. They beat India and then South Africa also, but I think the India match was the best match they played in the World Cup.
Youngsters like Tamim Iqbal, Saqibul Hasan and Mushfiqur Rahim seem to have really taken well to international cricket. They made their mark at the World Cup too. What is your take on these youngsters?
Tamim is our great former cricket Akram Khan's nephew. I know him from the childhood days and we discuss a lot whenever we meet.
I am very close to Mohammad Ashraful and Mohammad Rafique also. I haven't met too much with Saqibul Hasan, but I think he is Bangladesh's best batsman right now. I always discuss with players if they have any problems. Ashraful still keeps in touch if he has any problems.
Talking about Mushfiqur Rahim, I think he needs to work on his wicketkeeping. But as keeping/batting all-rounder he has done very well. I remember that match against India in Trinidad where he played a glorious innings. He is capable of playing many more innings like this.
Bashar is retiring from ODIs at the end of this series. You are very close to Ashraful, as you said. Do you think at 22, he is ready to lead the Bangladesh team?
I think he is ready. I know him from childhood days and he has been captaining since then. He was captaining a regional team in the first class competition; he has also been captaining one of the top domestic teams, Sonar Goan Sports Club, and he has been very successful there.
I think he has the required qualities that a captain needs.
Ashraful is such an exciting batsman. He's such an integral part of Bangladesh's success in international cricket. Don't you think he needs to get a bit consistent?
He was a bit lucky in his starting days because then whenever he used to play, the team would lose. From that point of view I think he is in a negative side.
If he was in the Indian side or a Pakistani side, normally they want to win all the time, so that habituation is not there. But now Ashraful is a different player. He is match-winner because whenever he plays he does not get much support from others. Also, I remember he is a player for the future for Bangladesh.
I remember the century he scored in his debut Test against Sri Lanka at the young age of 16 [in 2001]. I was at the other end, watching him for four hours. I made 58, but he scored a hundred, so that day I realised that this guy will give long service to Bangladesh cricket.
He is in an underdog team so people expect good things from him all the time. He needs to improve his consistency; for that he should work on his shot selection. His average is not great in Test matches because of that.
Do you think he throws his wicket trying to attack early on in his innings and is that one of the reasons for him not doing justice to his talent?
Yes, he used to be like this But in the World Cup I noticed he had changed a lot.
Dave Whatmore is also quitting as coach of Bangladesh at the end of the series. How would you rate his tenure?
Of course, he has been a very successful coach. Before coming here also, he proved himself with a good record like Sri Lanka's World Cup victory, for Lancashire and Victoria.
We were lucky to have him and he has proved himself here. If you go by the results, you can see he had a good time here.
Don't you think Whatmore should have stayed on for a couple of years more?
Since I am a coach too, from a coaching point of view, I don't think he has much to give to Bangladesh. Whatever he had, he has already given, so it was better he go and coach somewhere else.
I am not a member of the Bangladesh Cricket Board, but as a well-wisher of Bangladesh cricket I feel that they must have a coach from the subcontinent. Obviously, the language barrier is there and at the same time cultural values are also important.
I think Bangladesh needs someone like Barry Richards, Imran Khan, Ian Chappell or Sunil Gavaskar, who can guide us to the right path. One of the local coaches can assist him and learn something from these legends.

You have the required qualifications for a coach and have also coached club sides. Would you be open to coach Bangladesh if offered the job?
Of course, I am ready, because I have done my coaching certificates. The good thing is that I have 17 years experience of playing for the national team. The main thing I can do is exchange my experience for the last 17 years.
17 years in international cricket, could you tell us some of your happiest and saddest moment?
The saddest moment was when we did not win the ICC Trophy in 1994 and could not qualify for the World Cup in 1996, which was held in India.
The happiest moment was winning the ICC Trophy in Malaysia [in 1997]. Of course, the most memorable moment other than the debut century was the press conference after we beat Pakistan in Northamptonshire [in the 1999 World Cup]. That moment is like day-light all the time.
Pakistan was unbeaten for four matches at that point, so, I think, beating Pakistan then was the greatest accomplishment for Bangladesh.