India's oldest Test cricketer Madhav Mantri died in Mumbai early Friday morning at a local hospital following complications due to old age.
A bachelor, he was 92.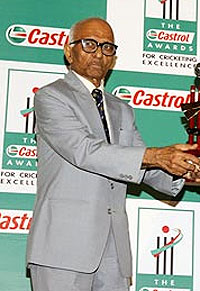 Mantri, the maternal uncle of the Indian cricket legend Sunil Gavaskar, was a wicketkeeper-batsman who played only four Test matches -- one in India (1951), two in England (1952) and his last one in Dhaka (1954-55, then East Pakistan). He aggregated 67 runs, took eight catches and effected one stumping.
His most impressive performance with the bat in Tests was a 75-run partnership. He scored 39 and batted as opener with Pankaj Roy in the first Test in England on the disastrous 1952 tour where India lost all four games.
Mantri was incidentally one of four batsmen dismissed for a duck by fiery Fred Truman on the same tour in the second innings of the Leeds Test, when the visitors were tottering at 0 for 4 before captain Vijay Hazare and all-rounder Dattu Phadkar scored half centuries and took the score to 165, forcing England to bat again.
He was a consistent performer in the Ranji Trophy and mentor to the likes of Polly Umrigar and Bapu Nadkarni.
In a first-class career spanning a quarter of a century, he piled on 2,787 runs at a plus-50 average. His highest score was 200 for Bombay against Maharashtra in the 1948-49 Ranji semi-finals, the third of three successive centuries.
He captained Mumbai, then Bombay, to three Ranji Trophy titles in the 1950s.
A former chairman of Saraswat Bank, he was also skipper of the Associated Cement Companies team and had stalwarts like Umrigar and Nadkarni playing under him.
After the end of his playing career, Mantri turned to cricket administration and rose to become the last cricketer to head the Mumbai Cricket Association in the late 1980s before he was overthrown by Shiv Sena leader Manohar Joshi in the 1992 elections, which paved the way for politicians to dominate India's most successful cricket association.
Mantri was also a former national selection committee member -- between 1964-65 and 1967-68, when Dutta Ray was the chairman.
He also accompanied the Indian team, led by Mohammed Azharuddin, as manager to England in 1990.
Image: Former Indian cricketer Madhav Mantri