As over 300,000 security personnel are needed for the upcoming general elections, Home Ministry sources tell Vicky Nanjappa it would be virtually impossible to guard the numerous stadia during the IPL's seventh edition.
With the schedule of the Indian Premier League clashing with the 2014 general elections, the seventh edition of the popular Twenty20 tournament could be shifted to Sri Lanka.
The elections are scheduled for mid-April around the same time the IPL starts.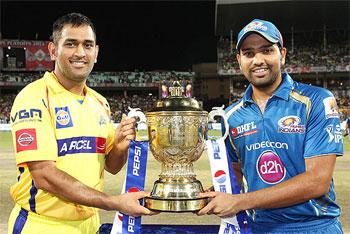 Claiming heightened security risk during the upcoming elections, the Home Ministry is likely to ask the Board of Control for Cricket in India to have the matches played outside the country, as was done for the second edition in 2009, when it was moved to South Africa.
In view of these claims, the BCCI is contemplating playing the first half of the tournament in Sri Lanka.
Home Ministry officials, who are in touch with the BCCI, have stated that with higher earnings expected from the matches played in India, the second half of the IPL can be played at home.
In 2009, after a major clash with the Home Ministry, the BCCI shifted the IPL to South Africa and the entire tournament was played there.
The idea of playing only the first few matches abroad was part of discussions in the BCCI's Working Committee meeting.
The proposals to this effect have been shared with the Home Ministry and Intelligence Bureau. The Home Ministry is considering the proposal and will take a final call depending on future Intelligence inputs.
Sources in the Home Ministry and Intelligence Bureau told Rediff.com that the possibility of a terror strike appears much higher this year.
"After the 26/11 attack we needed to be cautious, but the perception of threat was lower since terrorist groups from Pakistan are not known to carry out back-to-back attacks, especially after an attack of such a large scale. The threat at that time was more from internal groups," IB officials pointed out.
However, over the last seven to eight months, there are credible intelligence reports about the possibility of a major attack, by two groups from Pakistan and two from India, during the elections.
Narendra Modi rallies and campaign trails are extremely high on the radar of a possible attack.
With the elections a priority, the Home Ministry has made it clear that it would be impossible to provide a large security contingent for the IPL.
The elections need over 300,000 security personnel and it would be virtually impossible to guard the numerous stadiums at that time, a Home Ministry source pointed out.
"We are analysing the situation and will convey the same to the BCCI, who have to have a second plan ready," the official added.
The BCCI is also holding discussions with other cricket boards on this issue and will finalise things only once the notification for the pools is issued by the Election Commission.