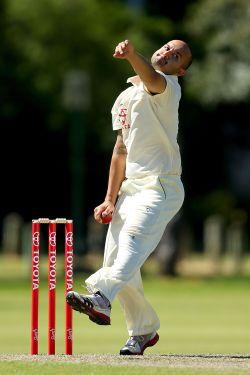 Recently recruited New South Wales spin bowler Manjot Singh, a car salesman who was coached by Sydney Sixers wicketkeeper Daniel Smith, has described his representing the Blues as proof cricket was a game that embraced all.
According to the Sydney Morning Herald, Singh, who is of Indian descent but is described as more Aussie than a character from a Banjo Paterson ballad, has endured quite a journey on his way to NSW selection.
Two years ago he took time off from work -- and cricket -- to focus on his fitness; he struck an agreement with his employer to allow him time to play cricket and at 18 he shocked his deeply religious Sikh parents when he decided to no longer wear the turban that symbolises his faith, the report said.
Singh became only the second player of Indian descent to represent the Blues after fast bowler Gurinder Sandhu's breakthrough selection last summer, the report added.
The 26-year-old believed his selection would have a knock-on effect in Sydney's subcontinent community, the report further said.
Singh said that it is not just for kids of Indian backgrounds but for other cultures too like seen in the case of Usman Khawaja that if one works hard, he would get acknowledged.
Image: Manjot Singh
Photograph: Paul Kane/Getty Images