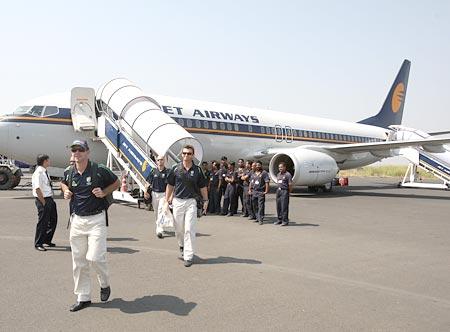 A Jet Airways plane carrying Australian and Indian cricketers made an emergency landing in Nagpur after it was hit by a bird 10 minutes after take off on Monday morning.
Five blades of the second engine of the Nagpur-Mumbai flight were damaged by the bird-hit, airport sources said.
The flight made an emergency landing within ten minutes of take off due to the technical snag, the sources said adding all passengers were safe.
The team members were later accommodated in a city hotel close to the airport and the flight was grounded.
Jet Airways sources in Delhi said a ferry service will be launched from Mumbai to pick up the Australian cricket team and a few Indian players waiting at a hotel in Nagpur.
The flight will reach Nagpur at 1:15 p.m. IST and then return to Mumbai.
Airline sources, however, said it was not an emergency landing but a "precautionary landing" after the flight was hit by a bird.
Five players from the home team had already left last night for Mumbai after taking part in the sixth and penultimate ODI in Nagpur.
They were Sachin Tendulkar, Sourav Ganguly, Zaheer Khan, Yuvraj Singh and Irfan Pathan, BCCI Chief Administrative Officer (CAO) Ratnakar Shetty told PTI from Mumbai.
Shetty said no practice sessions have been scheduled today for both the teams. "It's a rest day for both. Tomorrow the Indians will practice at the Wankhede stadium at 1600 hours while the Australians would do so at the Brabourne stadium at 1400 hours," he said.
The seventh and final ODI in the bilateral series is scheduled to be held at the Wankhede stadium under lights on October 17.
Photograph: Hamish Blair/Getty Images