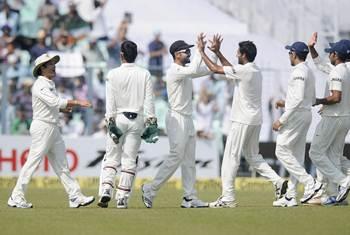 The innings and 51-run victory over the West Indies in the first Test at the Eden Gardens in Kolkata is India's fifth straight win, their best run in Tests.
The team beat Australia in all four Tests in February/March this year.
They had won four consecutive Tests in the 1992-93 & 2009-10 seasons.
Most wins in a row for India
| | | | | | |
| --- | --- | --- | --- | --- | --- |
| Wins | Opponents | Venue | Season | Margin | Captain |
| 5 | Australia | Chennai | 2012-13 | 8 wickets | MS Dhoni |
| | Australia | Hyderabad | 2012-13 | Inns & 135 runs | MS Dhoni |
| | Australia | Mohali | 2012-13 | 6 wickets | MS Dhoni |
| | Australia | Delhi | 2012-13 | 6 wickets | MS Dhoni |
| | West Indies | Kolkata | 2013-14 | Inns & 51 runs | MS Dhoni |
| | | | | | |
| 4 | England | Kolkata | 1992-93 | 8 wickets | M Azharuddin |
| | England | Chennai | 1992-93 | Inns & 22 runs | M Azharuddin |
| | England | Mumbai WS | 1992-93 | Inns & 15 runs | M Azharuddin |
| | Zimbabwe | Delhi | 1992-93 | Inns & 13 runs | M Azharuddin |
| | | | | | |
| 4 | Sri Lanka | Kanpur | 2009-10 | Inns & 144 runs | MS Dhoni |
| | Sri Lanka | Mumbai BS | 2009-10 | Inns & 24 runs | MS Dhoni |
| | Bangladesh | Chittagong | 2009-10 | 113 runs | V Sehwag |
| | Bangladesh | Mirpur | 2009-10 | 10 wickets | MS Dhoni |