The top performer of the day has to be Sachin Tendulkar.
- PHOTOS: India vs Australia, 1st Test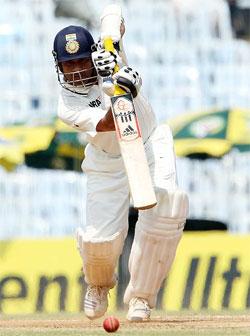 - India vs Aus, Day 2: Turning Point
- Day 2: Where India got it wrong
The veteran, who has scored a bulk of his Test runs against Australia, came in at the most inopportune of moments, and earlier than expected.
India had been dealt a double blow by James Pattinson, having lost both their openers with just 12 runs on board.
In came the Master Blaster, easing the pressure with immediate effect by hitting Pattinson for three boundaries in an over, thereby forcing a bowling change.
Tendulkar thereafter changed gears and was involved in a vital 93-run third wicket stand with Cheteshwar Pujara (44), a partnership that not only helped the home team recover from the early slump but also laid a solid foundation to build on.
The veteran then proceeded not only to complete his 67th Test fifty but also consolidate the Indian innings further with a 77-run fourth wicket stand with Virat Kohli (50 not out).
Photograph: Getty Images