India may possess two of the best batsmen in world cricket at the moment in Sachin Tendulkar and Virender Sehwag but the Proteas will not just be targeting them specifically when the Test series starts at SuperSport Park on Thursday.
"This is an excellent Indian team and whether it is the best one ever to tour here is not for me to say," said South Africa coach Corrie van Zyl.
"I can't really tell you. As far as individuals are concerned, when you are talking about a very good Indian team you can't single out individuals.
"They aren't a very good team because of one individual but because they are a very good unit. Therefore, if we are going to focus on one or two individuals, then we are going to miss the boat here. We are preparing for the whole Indian team," he added.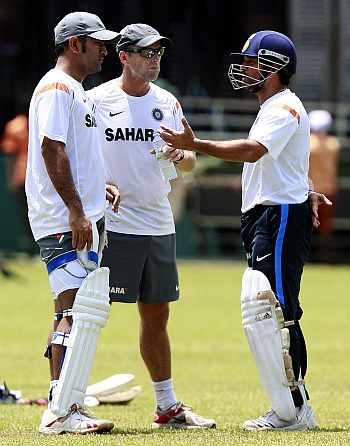 The build-up to the Test series has focused very much on India's strategy in adjusting to South African conditions and on the role their coach, Gary Kirsten, will play in dealing with this vital aspect.
"Gary knows the conditions in South Africa well and that is a benefit to the Indians," said Van Zyl.
"But that is not a worry for us. We leave that to India to acclimatize and we need to worry about what we need to do.
"This Indian team is not ranked No. 1 in the world for no reason. They are a really good team who have played good cricket over the past couple of years and that is why they are No. 1.
"Playing in South Africa in different conditions obviously worries them a bit and that is the reason why they arrived here a bit early to work on South African conditions and get used to them. It isn't the easiest thing to do when you haven't been playing in them for quite a while.
"We are certainly hoping to have pitches with good pace and bounce but it is one thing to play on them and another to execute your plans well. Short stuff is good as long as it is part of a plan," he added.
Van Zyl added that he felt good lessons had been learned in the series against Pakistan on flat wickets and that the bowling attack, spearheaded by World No. 1 Dale Steyn, was well equipped to win matches.
"We hope to have more responsive wickets than we had against Pakistan," he said.
"The pitches weren't very responsive and I don't want to go into the reasons for that now. We had our opportunities in the first Test. You never know what might have happened had we held on to our catches. I felt that we improved our lengths after the first Test and we executed much better in the Abu Dhabi Test.
"The wicket was just too good and both Vintcent Barnes and myself were happy with the execution of our lengths and plans on the last day. If we can repeat that in this Test series we will put those thoughts to rest about our ability to take 20 wickets to bowl the opposition out twice," he added.