Former Test cricketer Chetan Chauhan paid rich tribute to Sachin Tendulkar on scoring his 50th hundred in Test hundred on Sunday, terming him a jewel and a genius.
-Congratulate Tendulkar on his 50th Test ton
 "Scoring the 50th Test century at Centurion is remarkable," he said during a conversation with rediff.com after the master blaster reached the milestone on Sunday.
"I sincerely believe that Sachin Tendulkar is not from this world. For me he is a man from another planet," the former opening batsman said.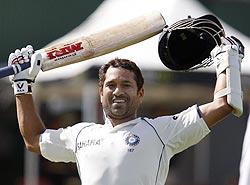 "As a cricketer, let me tell you that his quench for runs is far from over. He is batting like what he did twenty-one years ago. He has attained what no other cricketer can hope to achieve through his life time. I love and respect him for his dedication to the game of cricket. He is a jewel in the crown of Indian cricket. Rarely people of his genius are born on earth," he added.
Having watched Sachin Tendulkar from close quarters Chetan Chauhan has special word for the patience of the master batsman and his selection of shots.
"His 50th ton has come at a time when India was fighting against all odds. His hundred, along with valuable contributions from captain Dhoni, Gambhir, Sehwag and Rahul Dravid, has helped India to fight back. But the hundred of Sachin Tendulkar at Centurian will always be remembered," he remarked.