South African batsman A B de Villiers admitted that his team was caught off-guard by the strong Indian fightback on Monday, but felt the second Test is still evenly poised.
"We batted extremely poorly, quite a few soft wickets. They bowled very well. They got Zaheer Khan back into the attack; he's a world class bowler and put us under pressure from the word go. They caught us off-guard and bounced back," de Villiers said.
"A couple of wickets didn't go our way like that of Alviro Petersen and Jacques Kallis but the Indian bowlers bowled really well and their lengths and lines were spot on. Thanks to our bowlers for getting us back in the game and now it's balanced," he said at the end of play on Day 2.
- If we score more than 300 we can win: Harbhajan
"India is the number one team in the world at the moment. You expect the number one team to bounce back after a poor performance," he added.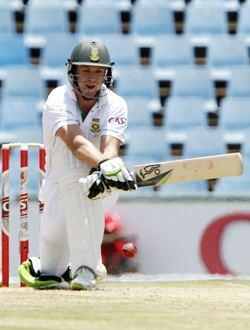 India have taken an overall lead of 166 runs with six second innings wickets in hand but de Villiers said South Africa can even chase down 300 in the fourth innings.
"We would like to chase something between 240 and 260. If the Indian batters play well tomorrow I back our batters to come back and play well the next innings. After a very poor performance today, we'd like to come out and prove ourselves and play well again. Even if we have to chase 300, we'll give it a good go," said de Villiers, who scored a duck in South Africa's first innings total of 131.
"Today moved forward quite quickly. Tomorrow is the big day for both teams. Whoever puts up their hands could come out on top and it's a matter of arriving here and doing the basics well tomorrow," he added.
He said the South Africans will have to plan a strategy to dismiss V V Laxman early on Day 3.
"We are very wary of him (VVS). We've seen him play big knocks for India before under pressure. We are gonna have to get out game plans right to him. He manages the player at the other end well, who is a youngster at the moment. He is definitely a danger man at the moment," he said.
Eighteen wickets fell for 245 runs on the second day and de Villiers said the Kingsmead pitch is an ideal Test wicket.
"You are never really in on this wicket, there's always something for the bowlers. The wickets suited the bowlers in the first two days. It's definitely dominated by the bowlers I think that's how a Test wicket should be, there should always be something for the bowlers. Unfortunately the batters didn't bat too well but they'll be back on day three and four.
"There's always going to be something in for the bowlers, even a little bit of spin Paul Harris and Harbhajan Singh both bowled well, getting a bit of bounce and turn. You get a bit of bounce, there's always a bit of swing, so we're just gonna have to come out here and get a few early wickets and restrict them to 250 which is very chaseable," said de Villiers.
De Villiers said batsmen will have to be patient on this type of wicket and try to get a measure of the pitch before thinking of a big score.
"It gets easier when you get in. When you get to 30, 40 it gets easier. You get used to the pace, bounce and swing. The older ball obviously doesn't swing as much. If you do get in and set a nice platform, you can set yourself in, to do nicely," he said.
Asked about his stupendous catch to dismiss Harbhajan Singh in India's first innings early this morning, de Villiers said, "It was an amazing catch, a reflex catch is one of those were you will be happy to get it. It wasn't one of the big barters but it a classy catch and one that he will remember for a long time."