India captain Mahendra Singh Dhoni admitted that bowling was an area of concern as the team were shot out for a paltry 136 in the first innings of the first Test which concluded at the Supersport park in Centurion on Monday.
"Bowling is an area of concern. To win a Test match, we needed to take 20 wickets and that didn't happen. We were not able to get them out. Agreed that the track became easier for batting on the second and third day, but we are used to bowling on flatter tracks," said a composed Dhoni.
On the positives that have emerged from the first Test, the captain said, "Most of the batsmen got good starts, which we will need in Durban. Another area of worry is the over-rate because we were five and a half overs down at one situation. We need to step-up on that front. We need to bowl our quota in the time allotted."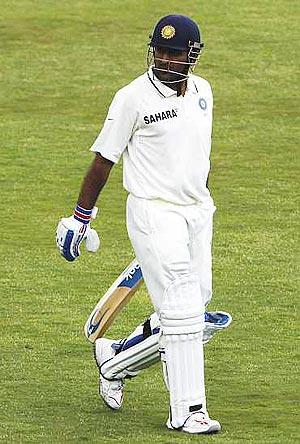 On losing an important toss, Dhoni said, "The wicket was very different during the first two sessions. As I said that the toss will be crucial. Winning the toss is only half the job done. They bowled well after winning the toss. They got us out quickly and then got a good wicket to bat on. "Even if we consider that they batted on a good strip, still their openers got them off to a good start and the midlle order capitalised. Kallis along with Amla and De Villiers did well in the second part. Overall they performed really well in all three departments."
Dhoni admitted that it was the high scoring rate of theSouth Africans which made the difference. "You're supposed to either take wickets or not let the opposition score at five runs an over in a Test match. Of course the conditions are difficult out here, it's not like in India where it's turning and the ball doesn't come onto the bat. "But over here scoring is quite easy. Once you're set, the ball comes on nicely and you can score on both sides of the wicket. So that's also an area of concern. Even our scoring rate despite us losing wickets was quite good. So that means the only way out is more often than not to take wickets."
Dhoni stressed on the fact that the main endeavour will be to level the series. "As far as the task is concerned, the first and foremost priority is to level the series. Then think about the last Test. The next Test is very important, we'll look to win the Durban Test."
On Zaheer Khan's availability, he said, "Zaheer hopefully should be fit. He's been bowling for the last few days, and hopefully he'll be back." Dhoni also seemed satisfied with his own batting form. "It's very important to play your natural game and the conditions were also supportive. The ball was coming on nicely; there was not much seam movement. Apart from the first day, I think we batted really well.
"When we were supposed to bat in the second innings, you have to achieve 400 or 400 plus score you are under pressure, it may be a flat track but handling that pressure is very difficult. That's definitely a big positive."
The Jharkhand dasher believes that there shouldn't be any reason to panic. "It's not a situation of panic that you need to talk a lot. What is important is to stick to your basics. That's what is important, that's what will win you games. The support staff has been good. Whenever we have lost Test matches whether in India or somewhere else, we had always remained positive. We had a follow-on in Napier also. It's important to be in a positive mindset. That helps you at the end of the day."