'I would say Rahane is aggressive in his own quiet way'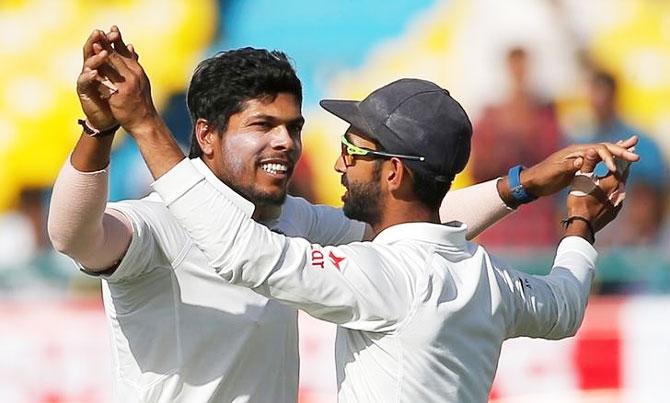 IMAGE: 'Rahane did a good job and had the team right behind him because of the way he captained'. Photograph: Adnan Abidi/Reuters
Ian Chappell says India are lucky to have a stand-in captain like Ajinkya Rahane, who led the hosts to a series win in Dharamsala in the absence of injured Virat Kohli.
"India are very, very lucky to have a stand-in captain like Rahane. I thought he did a fantastic job," the former Australian captain told ESPNcricinfo.
"It is not easy to do the job of a fill in because you know the actual captain has a got a certain style. So (in that situation), you think 'what do I do? Do I try to copy that style or do I just be myself', and Rahane did the right thing. He captained in his own way," said Chappell.
Rahane performed the duties in his own quiet way, a contrast to the usually animated Kohli on the field.
"I would say Rahane is aggressive in his own quiet way. You know you don't have to be a gung ho captain to have the whole team behind you. You just need to do a good job and have the guys have faith in what you are doing.
"And if you are making the right moves, the aggressive field placing moves that Rahane was making, that sort of thing brings the right behind the captain.
"They (Kohli and Rahane) do it totally different. But I thought Rahane did a good job and had the team right behind him because of the way he captained," added Chappell.
Meanwhile, former Australian pacer Mitchell Johnson has indirectly launched a verbal volley against injured skipper Virat Kohli, saying that batsman Ajinkya Rahane should continue as the Indian captain.
Following the fourth Test match, which India won on Tueday, Johnson tweeted: "Rahane should stay captain! It was a tough series but I believe it should stay on the field with the players".
Johnson did not stop there and also hit back over Kohli's recent comments about friendship with Australian players.
"Clear difference in class. Smith apologised in the post-match interview, Kohli keeps going in press conference," he tweeted.
Prior to the opening Test at Pune, Kohli had said that regardless of what is said and done in the heat of moment is invariably forgotten when the teams vacate the combat zone.
However, after what all happened between and during Tests, the Indian captain has declared those friendships irretrievably broken, and the relationship and trust he thought he had with the Australian players has been tarnished.
"No, it has changed. I thought that was the case, but it has changed for sure. As I said, in the heat of the battle you want to be competitive but I've been proven wrong. The thing I said before the first Test, that has certainly changed and you won't hear me say that ever again," Kohli told in a post-match media conference.
Earlier, Australia captain Steve Smith, ahead of the start of fourth Test, said that the team would be in fine hands if led by Rahane.
He further went on to say to that the Mumbai batsman was "calmer, chilled out and doesn't get too emotional".