Despite being beaten by England in the second Test in Mumbai last week, India still remain a formidable team on home soil, Pakistan captain Misbah-ul-Haq said.
"They might have lost a Test to England recently but India are still a formidable team in their home conditions and difficult to beat," Misbah told reporters during the National T20 Championship, now underway in Lahore.
He predicted a tough fight for England in the remaining two matches of the four-Test series in India.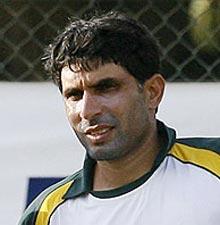 "England batsmen will have to show plenty of resilience to continue their winning streak against India who will come back stronger," he said.
The third Test between India and England begins on December 5 in Kolkata.
Misbah said that even Pakistan's tour to India later this month will not be an easy one.
"Regardless of outcome of their series against England, India has a very good T20 and ODI squad and trying to defeat them in their own conditions will be a challenging task.
"There is no question, we will have to be at our best physically and mentally to overcome India," Misbah said.
The senior batsman said he is eagerly looking forward to playing in the limited-overs series in India.
"Every player knows that if you do well against India people make you a hero and remember your innings for long time. It is always a pressure series for players," he said.