Off-spinner Graeme Swann says that getting the number one spot won't be enough for England, at least for the current group of players.
 "We want to create a dynasty, a long-term era of success and to be remembered as one of the best England teams ever. Reaching No 1 in the world is not the end of the journey. It will be only the beginning. We are not there yet, of course, and our prime objective at the moment is making sure we are fully focused for the third Test at Edgbaston next Wednesday," Swann writes in his column for the Sun.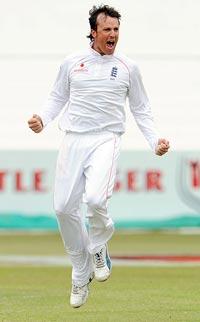 "Yet, we make no bones about wanting to be the top team and the exciting thing is the guys who are performing right now will be around for many years. The likes of Tim Bresnan, Stuart Broad and Ian Bell -- who all played brilliantly in our win at Trent Bridge -- are well under the age of 30. It gives England the chance to be a top-side for a long time to come," adds Swann.
"We want to lay the foundation for a prolonged period at the summit. People talk all the time about the Australian team of the 1990s and the West Indies team of the '80s. I want people in future to talk about the England team of the teenies -- or whatever this decade is called!"
"I do know we have huge self-belief and an incredible team spirit. That is key -- there might have been England teams with better individuals but not many play better as a team. Even when we're in trouble, one or two players usually bail us out," he said.