Bikash Mohapatra reports from Trent Bridge.
It wasn't just about the occupying the crease for a whopping 370 minutes. 
It wasn't about scoring a hundred for a second successive Test and putting India in a comfortable position for yet another time.
- Scorecard | Match Report | Images
It was about equaling a record, about sharing the same pedestal as a legend of a game.
Rahul Dravid's spectacular 117, his ninth hundred against England, was also his 34th Test hundred -- the same number as the legendary Sunil Gavaskar. The 235-ball knock, inclusive of 15 hits to the fence, was a trademark resolute innings.
- Dravid equals Gavaskar's record; Congratulate him
While his 103 not out in the opening Test at Lord's helped India avoid the follow-on, this one helped the team take what could be a crucial lead.
And the 38-year-old was modesty personified while explaining the significance of equaling Gavaskar's record.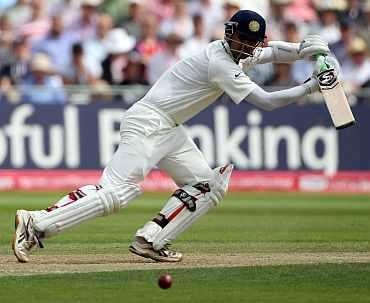 "As far as equaling Sunil Gavaskar's record is concerned, it is great to share something with him," said Dravid, before quickly brushing aside any comparison.
"I don't compare myself with him, as he is such a legend of the game.
He proceeded to explain how Gavaskar, the first batsman to surpass 10,000 Test runs, influenced him as a cricketer.
"I grew up as kid in a generation when Gavaskar and [Gundappa] Viswanath were heroes for us. In all my backyard games, or book cricket, I was either a Gavaskar or a Viswanath.
"For me, to be able to equal something that he has done, is truly fantastic," explained Dravid.
The only Indian batsman who has more Test hundreds than Dravid is Sachin Tendulkar. The Master Blaster has 48 Test hundreds.
Comparisons apart, Dravid admitted the innings was all about fortitude, patience and making the most of some good fortune.
"As long I was there I was determined to make it count," he said.
"It was a fighting hundred, in testing conditions, something which I thoroughly enjoyed."