Bikash Mohapatra reports from The Oval
'We'll bat first two sessions and take 20 Indian wkts'
It was a spectacular comeback, so to speak.
Having lost both their openers in the space of 22 runs, England recovered to finish in a position of strength (457 for three) on day two of the fourth and final Test at The Oval on Friday.
The architects of the revival were Ian Bell (181 not out) and Kevin Pietersen (175), the duo putting on a record 350 runs for the third wicket. Their onslaught increased India's cup of woes -- the visitors are down 0-3 -- while enabling the home team remain on course for a series whitewash.
No wonder the players were pleased with their effort.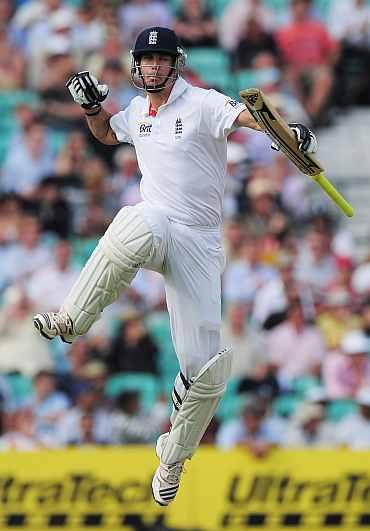 "Our team is doing it (revival) regularly at the moment," gushed Pietersen, before going on to elaborate the strategy that helped England cope with the early setbacks easily, and, thereafter, end the day on a high.
"One of the principles that this team lives by is about using up as much of the new ball as possible," he explained, adding, "We have got the Indian bowlers to bowl their third, fourth and even fifth spells.
"It is hard to bowl thereafter."
The 31-year-old admitted the end result of the series that was a high profile one to begin with, might surprise many, but, for the players themselves, it was the fruit of all the effort put in over the years.
- SA series in 2008 was tougher: Sreesanth
"We are not surprising ourselves," said Pietersen, when asked about the one-sided result of the series.
"We have worked hard in the last two years or so and are fortunate now that the hard work is now paying off," he added.
Having already won the series, following comprehensive wins at Lord's, Trent Bridge and Edgbaston, the hosts are looking to complete a clean sweep at The Oval -- their first such result since the summer of 1974. And Pietersen was categorical about the strategy his team needs to adopt to ensure the same.
"We bat for the first two sessions tomorrow and then come back and take 20 Indian wickets thereafter," he said.
Asked what if the weather intervenes, as predicted by the met department, Pietersen's response was a cheeky one.
"If the conditions remain overcast, it is good for our bowlers. They will be able to generate swing in such a case."