It took a resolute 103 not out by the ever-dependable Rahul Dravid to help India avoid the follow-on on day three of the opening Test against England at Lord's, on Saturday.
The 38-year-old's effort helped the visitors end up with a score of 286, replying to the home team's formidable first innings of 474 for eight.
- Scorecard | Images
In fact, at one stage (at 240 for seven) in the match, the follow-on looked imminent for India before the veteran batsman came to his team's rescue.
- 'The talk is always about Sachin'
However, it was surprising to learn later in the day that England had never contemplated enforcing the follow-on in the first place.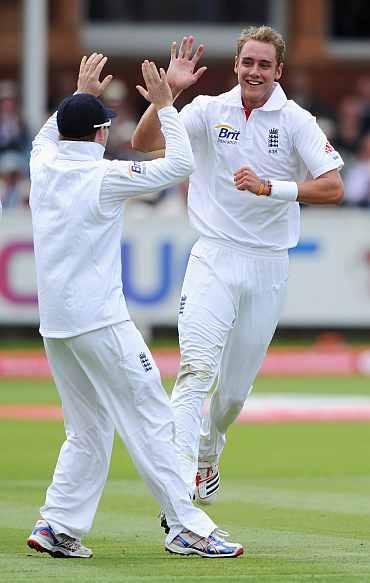 "We wouldn't have enforced follow-on to be honest," admitted Stuart Broad, when speaking to the media.
"The follow-on is only useful if you have bowled 40 or 50 overs and each bowler has bowled 10 to 15," he continued, adding, "Because then you are bowling at the top order again in your third and fourth spells and getting your bowler bowl 30-40 overs, which can be hard work.
"Unless we bowled India out for 120-30, I don't think we would have looked at the follow-on.
"The plan was always to bat again, give the bowlers some rest, get the flip-flops on and come firing in all cylinders when we had to bowl again."  
Follow-on or not, the English bowling was impressive in the Indian first innings. And Broad, with figures of four for 37, was the pick of the bowlers.
Coming after a poor series against Sri Lanka, it was kind of a personal comeback for the bowler.
So what did he do differently to succeed?
"I bowled a fuller length today," explained Broad, adding, "I thought of getting a fielder at cover today, then having three slips and getting rid of the gully.
"This allowed me to bowl the fuller length without the thought of getting hit for four."
Broad's could have been a five-wicket haul had it not been for two dropped catches. The bowler was palpably disappointed.
"It is always heartbreak when a catch goes down. And Straussy rarely drops them.
"I was running to celebrate when I saw him put it down," explained Broad.
Despite missing out on the landmark, he was happy that his team did well.
"We have put ourselves in a strong position. The wicket is still playing pretty well, but the key to taking all their 10 wickets again will be swing.
"But if you get in it will be hard to remove you, as KP and Dravid have shown," he concluded.