Former England wicketkeeper Paul Nixon reckons that looking at Indian skipper MS Dhoni's current form behind the stumps, it can be said that he could be suffering from "sore hands".
"MS Dhoni is a world-class player. He is a great leader of men. He is the strongest character of men in the game. He has not had his best of the series so far and that's cricket and that's life," Nixon said.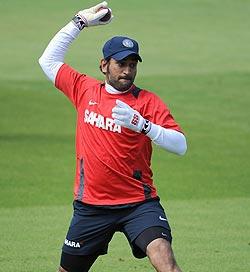 "I am looking forward to chat to him over the next few days. It looks to me as I look at his hand position and foot placement as we all do with each other and it looks like for me he has got sore hands," he added.
Nixon further said that teams need to adopt a rotation policy to get rid of such injuries to elite players. 
"Manchester United has a squad rotation. The management has to be very clever on who they do rotate. England has done very well over the last few weeks. They pick players in form," he said.
"They have all made a difference and they pick players at the right time when they are ready and that's what India have got to do," he added.