If injuries and back-to-back Test defeats were not enough, the Indian cricket team's tour of England has taken another disastrous turn as pacer Praveen Kumar reportedly got into a spat with fans after the practice match against Nothamptonshire.
According to a report on the website pakpassion.net, "large groups of Indian fans encircled the tourist's team bus as they attempted to make an exit from the County ground."
"While most of the banter directed towards the players was good natured and in support of the Indian team, as it had been throughout the day, things turned ugly shortly before the tourists team bus departed."
Praveen was reportedly "seen charging out of the team bus with a cricket bat in his hand."
"...(he) had to be restrained by teammate Suresh Raina as he lunged towards a group of supporters. Praveen could be seen pointing at a group of fans and had to be restrained by stewards."
The website reported that it did not stop at that and medium pacer Munaf Patel "left his seat on the bus to complain to stewards that fans were being disrespectful to him and some teammates.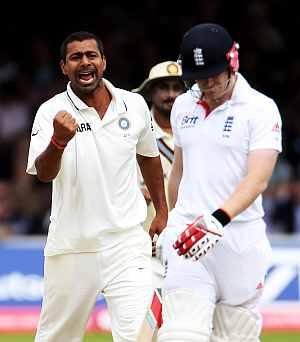 "Munaf was seen speaking to the stewards and pointing towards fans and asking stewards to intervene in the issue.
"As stunned fans looked on at the bizarre events, not long after Patel regained his seat on the team bus, Praveen once again leapt out of the team bus and made a charge for the same group of fans who he had attempted to lunge towards a few minutes earlier," it said.
"Stewards once again had to restrain Praveen as he hurled abuse and pointed at one particular fan."
Raina once again played peacemaker and brought Praveen back onto the team bus.
"It was then the turn of the Indian security manager to come face to face with the young fan as another verbal exchange ensued. Once again the stewards had to intervene just as the incident was about to escalate. The young fan was dragged away by stewards and escorted out of the ground."
"Other eyewitnesses who were close to the series of incidents stated that the ejected fan may have been drunk and abusive to Praveen and was allegedly hurling abuse at him.
"However another group of Indian fans stated that Kumar's behaviour was nothing short of disgraceful and even if there had been any provocation, Praveen should have left it to the stewards to deal with instead of running out of the team bus twice."