It's not often that a pacer bowls 40 overs in an innings. But Praveen Kumar isn't complaining, after bagging his maiden five-for at the 'Home of Cricket'.
"It's a dream to get five wickets at Lord's. It is very special. I didn't mind bowling that many overs, since I do bowl 30-35 overs in domestic cricket.
"In Zaheer's absence, I had to shoulder that responsibility," stated the right-arm swing bowler, who now has 17 Test wickets to his name.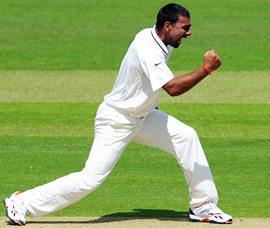 Praveen claimed 5 for 106 and kept coming at the batsmen even though there was little support from the other end, on Day 2 of the first Test against England, at Lord's.
The shy, young man, who missed the World Cup due to injury, believes that God has way of making up for losses.
"If you lose somewhere, God makes it up in some other way. I can only work hard and play cricket. I missed the World Cup due to injury, but this might have happened with any athlete."
Praveen, who was wicketless on the first day, said he did not bowl any differently on Friday.
"I bowled the same as I had on the first day. But since it was an older ball, I did try to put in extra effort."
An area of concern for Praveen in his short career is his tendency to follow through in the danger area of good length. He was barred from bowling by umpire Daryl Harper in Jamaica last month and came close to being warned by umpire Billy Bowden as well at Lord's.
"It's an issue I know. I managed it by bowling close to the wicket or sometimes by going away. I like bowling close to the stump and could still bowl 70 per cent of my deliveries that way. I came close to being warned, but, fortunately, it didn't happen," he said.
A feature of Praveen's bowling was the way he adjusted to the (in)famous slope of the Lord's for bowlers.
"I got used to it (from practice) on the first two days. I didn't have problem in adjusting to the slope."
Praveen didn't find anything unusual in India captain Mahendra Singh Dhoni turning his arm over on the second afternoon.
"We were a bowler short. Somebody had to contribute with 7-8 overs. Mahi (Dhoni) did the right thing."
A feature of the second day's play was the constant exchanges between double centurion Kevin Pietersen and Praveen had in the middle.
"We have played together for RCB (Royal Challengers Bangalore). It wasn't anything else. When he was leaving the field (after the declaration), I ran up to him and congratulated him. A 200 is a 200," the seamer signed off.