England made a strong recovery before rain played spoilsport on Day 1 of the opening Test against India, at Lord's, on Thursday.
Rain and bad light forced an early tea break, and the players did not return to the field thereafter.
When stumps were drawn for the day, the home team had put up 127 for 2, the score at which tea was taken.
Jonathan Trott was batting on a resilient 58, and giving him company was Kevin Pietersen, on 22.
The duo put on 65 runs for the third wicket.
The Test is the 100th between the two countries and 2,000th in the annals of the game.
The Test is the 100th between the two countries and 2,000th in the history of the game.
Morning session (43 runs, 21 overs, 1 wicket):
An early morning drizzle delayed the start by about 30 minutes. But fortune smiled on India early on, with M S Dhoni calling correctly. India's captain had no hesitation in inviting England to bat first.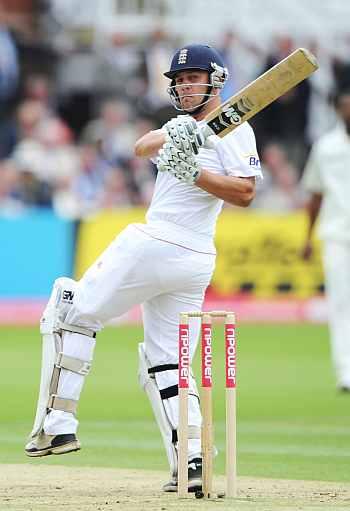 The home team started off cautiously. It took them 19 balls to open their account, courtesy a boundary by Alastair Cook.
Cook and Strauss expectedly played it safe. Negotiating the initial overs was vital from an English perspective, considering the overcast conditions.
Dhoni, on his part, did everything to get an early breakthrough. He  set a pretty attacking field, with three slips and a gully.
India's seamers, Zaheer Khan and Praveen Kumar, did generate some seam and swing, but the two English openers remained largely untroubled in the first 10 overs.
However, Zaheer struck with the last ball of his sixth over, trapping Cook plumb in front.
Cook scored 12, and England lost their first wicket with 19 runs on the board.
India made their first bowling change in the 15th over, Ishant Sharma replacing Zaheer (7-3-9-1), and with the fifth ball of that over, Strauss helped himself to a boundary over third man, his first after facing a whopping 48 balls.
Harbhajan Singh replaced Kumar (2-0-10-0) in the 19th over and generated turn immediately, only to see Dravid putting down Trott (on eight then) at first slip. It was a difficult chance, but one nonetheless!
Strauss and Trott then ensured England did not suffer further reverses before lunch.
Post-lunch session (84 runs, 28.2 overs, 1 wicket):
Zaheer struck for a second time in the innings -- in the fourth over after resumption -- when he had his bunny, Strauss, caught.
England's captain mistimed a pull and was snapped up by Ishant at fine-leg. It was the sixth time in 11 head-to-heads that Zaheer accounted for Strauss.
Strauss scored 22. His dismissal reduced England to 62 for 2, also ending a 43-run stand for the second wicket.
In came Pietersen, and, after a tentative start, settled down well, to give Trott the support he so desperately needed.
Dhoni brought back Zaheer for his third spell, in the 38th over. It was for the first time in the match that Zaheer bowled from the Pavilion End, having bowled both his opening spells from the Nursery End.
The bowler was unlucky in his second over when an edge off Trott (then on 32) flew between Dhoni and Dravid to the fence.
Those were the first runs in 34 balls off Zaheer's bowling. 
England got to the 100-run mark in the same over.
Zaheer could bowl only three balls in his next over before going off the field with a pulled hamstring. Kumar completed the over.
Zaheer's figures at that stage were 13.3-8-18-2.
A lovely drive through cover by Trott in Harbhajan's next over brought up the 50-run stand for the third wicket.
Trott reached his seventh Test fifty, his first against India, with a single in Harbhajan's next over.
Bad light and poor visibility forced the umpires to ask for the floodlights to be switched on.
A light drizzle, coupled with the bad light, when 49.2 overs were bowled, forced the umpires to call an early tea break.
Final session:
It was announced that the match would restart at 06.30 pm (local time).
A maximum of 13.4 overs were to be played, with the possibility of play being extended till 07.30 (local time).
However, it started drizzling again, and officials had no option but to call off the day's play.
Teams:
England: Andrew Strauss (captain), Alastair Cook, Jonathan Trott, Kevin Pietersen, Ian Bell, Eoin Morgan, Matt Prior, Graeme Swann, Stuart Broad, James Anderson, Chris Tremlett
India: MS Dhoni (captain), Gautam Gambhir, Abhinav Mukund, Sachin Tendulkar, Rahul Dravid, VVS Laxman, Suresh Raina, Harbhajan Singh, Zaheer Khan, Ishant Sharma, Praveen Kumar.
Photograph: Reuters