Down 0-2 in the series, India's injury woes increased on Wednesday with off-spinner Harbhajan Singh being ruled out of the third Test against England due to an abdominal strain.
Harbhajan, who has really struggled to find form in the series so far, picked up the injury during the second Test at Trent Bridge which India lost by a massive 319 runs on Monday.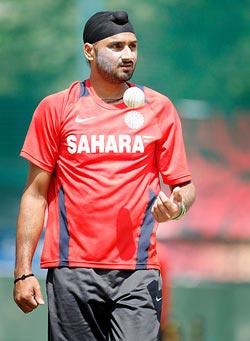 "Harbhajan has a grade one lower abdominal tear and is expected to be out of action for 10-12 days," ESPN Cricinfo reported.
The off-spinner bowled just 13.4 overs in the second Test and has been woefully out of form in the series. The feisty tweaker grabbed 1 for 69 in the second Test after his 1 for 218 in the first at Lord's.
In his absence, leg-spinner Amit Mishra might get a chance.
On what has turned out to be a disastrous tour so far for the World No 1 Test side, India's dressing room resembles a hospital ward with key players such as pace spearhead Zaheer Khan battling injuries.
Zaheer, who sat out of the second Test, is still not confirmed for the third starting August 10 because of a hamstring strain he sustained during the series-opener at the Lord's.
But opener Gautam Gambhir, who picked up an elbow injury during the opening Test, is set to return for the Edgbaston Test.
Gambhir's swashbuckling opening partner Virender Sehwag will also bolster the line-up in the third Test. Sehwag joined the team on Wednesday after missing the first two Tests to recuperate from a shoulder surgery.
Middle-order batsman Yuvraj Singh, who came in the side in place of Gambhir, ended up injuring himself during the match after getting hit on his left hand by Tim Bresnan delivery.
India play a two-day tour game against Northamptonshire on August 5 and 6 before the third Test.
Mahendra Singh Dhoni's men would lose their number one position in the ICC rankings if they go down by a margin of two Tests or more in this series.