India's stubborn refusal to adopt the Decision Review System (DRS) will result in controversy sooner than later in the high-profile Test series against England, feels England coach Andy Flower.
There is already growing concern in the home camp that the lack of the DRS could lead to frayed tempers in the remaining three Tests.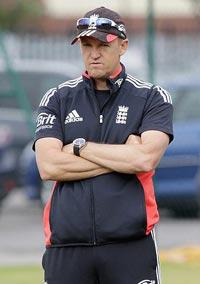 In the Lord's Test, which England won by 196 runs, Umpire Billy Bowden turned down Stuart Broad''s appeals for leg before wicket against Sachin Tendulkar and Suresh Raina, even though replays indicated the decisions were incorrect.
Flower described the situation as "unsatisfactory" and predicted trouble in future matches, beginning with the second Test at Trent Bridge starting Friday.
"It would have been wrong if the outcome of the game had been seriously affected by a couple of those decisions. It's unsatisfactory the way it is, there is no doubt about that," stuff.co.nz quoted Flower, as saying.