Bikash Mohapatra reports from Trent Bridge
First innings: 4.4-0-22-1
Second innings: 9-1-47-0
Above mentioned are Harbhajan Singh's figures in the two innings in the second Test against England at Trent Bridge.
It is not that the offie had had a major impact in the opening Test, in fact his match-figures at Lord's -- 56-4-218-1 -- don't read too well. Now that, coupled with the above figures corroborate the fact that Harbhajan has struggled in the series.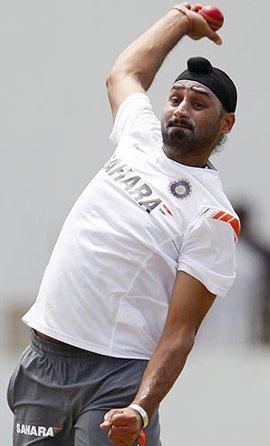 However, besides his poor show he has ensured further worry for his teammates by picking up an injury. The 31-year-old pulled a stomach muscle and was in pain throughout the third day's play.
"He was facing a lot of problems while bowling and couldn't complete his action," explained teammate Rahul Dravid.
"For the second successive Test we are a bowler short and that is tough," he added.
With pace spearhead Zaheer Khan already a doubtful starter for the rest of the series, an injury to their lead spinner is something the Indian team can ill-afford, especially when not much is going in their favour.
The team management is now awaiting the physio's report to know the extent of the injury.