The mystery over Gautam Gambhir's health isn't ending in a hurry, for the latest indications emerging from the Indian dressing room is that all is not well with the left-handed opener.
Gambhir is reportedly still suffering from blurred vision and is almost certain to miss out the day-night fixture against Kent on Friday.
- Gambhir undergoes MRI scan, reports awaited
- Gambhir rushed to hospital for medical examination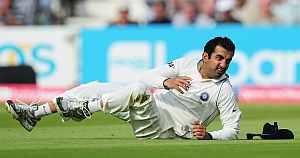 If things improve dramatically over the next couple of days, Gambhir could be targetting the one-day game against Leicestershire on August 29, which will be followed by the Twenty20 and five one-day internationals against England.
However, things are looking far from rosy as the Delhi opener is having trouble with his eyesight, so much so that even looking at the mobile or watching the television is proving to be an effort.
Gambhir took to indoor nets at Hove county cricket ground for 45 minutes on Thursday with bowling coach Eric Simmons watching over his progress. To onlookers though, it was apparent he was having trouble picking up the line and length of throwdowns which Simmons hurled at him.
During the innings break in the match between Sussex and the Indians on Thursday, Gambhir came out and tested himself with a run in the ground with the Indian support staff assessing his fitness.
Sources have revealed that Gambhir suffers from nausea whenever he tries exert to himself either physically or when he sets his gaze on anything.
The left-hander is suffering from blurred vision after the concussion he suffered while fielding in the final Test at Oval last week.
The one-off Twenty20 match is scheduled to be held on August 31 while the first one-day international will be staged in Durham on September 3.