In what would come as a massive blow to the Indian cricket team, pace spearhead Zaheer Khan's leg injury has turned out to be a hamstring strain but it is not yet known how serious the problem is.
Team manager Anirudh Choudhary declared at the press briefing on Thursday that Zaheer was suffering from "strain in the hamstring".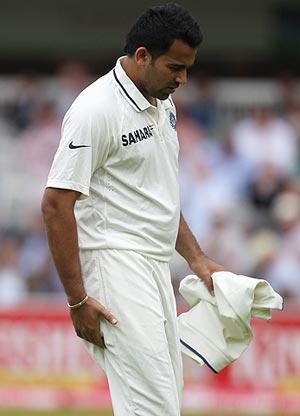 "Zaheer is being looked after by the medical team and is being investigated. He strained his hamstring and the extent of his injury can only be declared tomorrow," stated Choudhary.
- Zaheer Khan's six Test bunnies
- 'Had Zaheer got three we'd have had a good day'
After Zaheer left the field in his 14th over on the first morning on Thursday, and the manager cut the phone line when questioned about the paceman's fitness, word emerged from a few players that it was only cramps.
It was later revealed as a "sprain in hamstring" by the manager.
In all likelihood, Zaheer will be a mere passenger at least in the first innings since it's his right foot -- the landing foot -- which bears the most strain for a fast bowler.
The medical reports are being awaited but if Zaheer is ruled out, it would be a major blow to India's hopes, not only in this Test but also in the rest of the series.