Never a permanent fixture in England's one-day team due to his inconsistent form, batsman Ravi Bopara says he is aiming to cement his place by scoring big against the hapless Indian team in the ongoing five-match series.
Bopara, who has played 61 ODIs with an average 28, was drafted into the England squad as a replacement for the injured Eoin Morgan. And, the 26-year-old wants to use the opportunity to cement his place in the squad.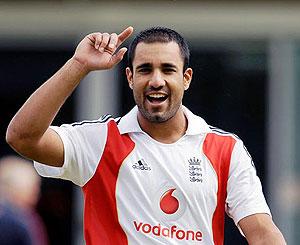 "I was a bit surprised Eoin was not fit, but nevertheless I was told early enough and was given time to prepare. I've not been told I will definitely play the rest of the series, but obviously I'd like to play and fight for that spot," Bopara said.
"It's a great chance to make it into the first XI and then perform and cement a place in the side. It's a great chance, with guys resting and a few injuries about. There is a great opportunity to cement my place," he added.
Bopara lauded England's batting display in the series so far.
"The way we went about our business was unbelievable, especially some of the batters. I thought the way our batters went about chasing it was spot on," he said.