Australia's tour of India took an extraordinary turn on Monday with their miffed vice-captain Shane Watson leaving for home hours after being dropped from the team for the third Test against India along with three other key players for ignoring a team management order.
On a day of dramatic developments, Watson checked out of the team hotel, while the rest of the squad trained, and left for Sydney, raising speculation of a revolt within the team following the unprecedented dropping of the four players.
- Aus axe Watson, 3 others for disobeying team orders
- Are struggling Aussies going the Windies way?
The team management had earlier announced that Watson, pacemen James Pattinson, Mitchell Johnson and batsman Usman Khwaja were dropped for failing to make a presentation on how to improve their personal as well as the team's performance after the heavy defeat in the second Test in Hyderabad.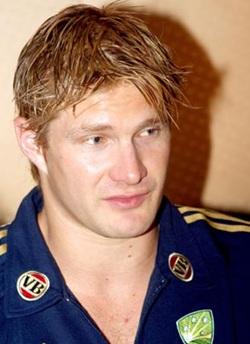 Australia's team management sought to downplay Watson's unscheduled departure for Sydney.
"He has not left in a huff; his wife is expecting and that is why he has left for Australia, to be by her side.
"The two things (returning to Australia and being dropped from the team) should not be linked," Australia's team's media manager Matt Cenin said.
The team management had earlier not made any announcement that Watson would not be available for the entire series keeping in mind his wife's pregnancy.
Watson's sudden departure has also raised speculation about his relationship with captain Michael Clarke amid indication that the skipper was not happy with the attitude of his deputy.
Photograph: Sanjay Sawant