A day after the shocking suspension of four key players, Australia skipper Michael Clarke is confident that there will be no backlash against him from the dumped players, who, he says, understand the reasons for this "harsh" decision.
-I deserve this punishment: Pattinson
-This is the straw that broke the camel's back: Clarke
Vice-captain Shane Watson, pacemen James Pattinson and Mitchell Johnson and batsman Usman Khawaja were sensationally dropped from the team on Monday for the third Test against India for ignoring the team management orders.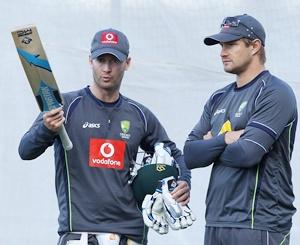 Watson returned home in a huff and is now contemplating his Test future, raising speculation of a revolt within the squad.
"I don't think it will have any impact on my friendship with the four guys because I know I've got the respect of those guys and they know how much I respect them. That's probably why I feel comfortable fronting players on these issues.
"I think it would be easy to walk away and let things slide. But they know how much I love playing for Australia like they do," Clarke was quoted as saying by the Australian media.
"They know how much I want this team to have success and achieve what I think we can achieve. And you know what? They want the same. There's only one way you get there. It takes the whole team pushing in the same direction. This is not about the individual player. The whole team sits on this level. These are our standards. If you're not hitting it, there's going to be consequences."
Clarke said making the presentation was not a big deal and the players should have provided the feedbacks.
"It wasn't a big ask. You let the team down, you let the head coach down. That's unacceptable," he said.
The captain said unavailability of four players will be a good opportunity for others to prove their worth.
"It has huge impact on the team for the third Test match. But it's why you pick a squad. It gives somebody else an opportunity. And that's the biggest risk in this game. You give somebody else an opportunity and you might never get another chance," he said.
Clarke said he has no doubt about Watson's abilities and is sure that he will comeback to the side as his deputy.
Australia now find themselves in a position where they go into the must-win third Test without vice-captain Watson and the series ' leading wicket-taker Pattinson.
But Clarke defended the timing of the punishment.
"There is no right time, there is no right punishment. I don't think it's about picking and choosing. Our support staff are spending time one-on-one with players to help them improve their game slowly.
"I feel partly like a coach as well as a captain. At training we talk about spin bowling, I feel like I'm coaching. But we are a playing group -- and there is no exception -- we as a playing group have to be helping ourselves as well."
The skipper said their decision is a step in the right direction and hoped the side will overcome the turbulent times and emerge stronger.
"It is my sincere hope that we will emerge from this a stronger team and do our millions of fans back home proud," he said.
Photograph: Morne de Klerk/Getty Images