Nothing has gone right for Australia in the ongoing series. Despite their best efforts they were outplayed by India in the first three Tests, and the trend could continue in the fourth as well.
The story was similar at the Feroz Shah Kotla on Friday as the Indian spinners continued to torment their batsmen.
To win a Test, it is essential that a big first innings total is on the board. However, Australia, despite winning the toss in all the four Tests, failed to seize the advantage and come good with the bat.
On Friday, they had themselves to blame more than the pitch, which offered a lot of turn to the Indian spinners, who played on the batsmen's patience more than anything else.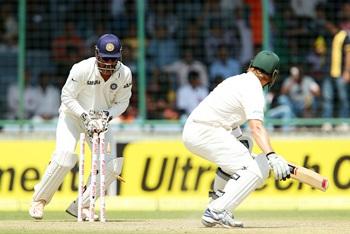 None of them were willing to grind it out and bide time at the wicket. As a result, most of the wickets on Day 1 were gifted to the Indian bowlers.
David Warner was dismissed in the day's second over, throwing his bat at a wide delivery from Ishant Sharma and was caught at second slip.
Similarly, Ed Cowan attempted a reckless sweep shot against R Ashwin, while captain Shane Watson needlessly chipped down the track to Ravindra Jadeja, was beaten and stumped.
Strangely, Glenn Maxwell tried to hit his team out of trouble but ended up spooning a simple catch to Sharma at mid-on off Jadeja.
The Australian team management dropped a few players ahead of the third Test in Mohali for breaching team discipline. It seems they will need to mete out similar punishment to instill discipline in their batsmen when out in the middle.
The top order's poor performance has already left the team with a lot of catching up to do in this Test. Barring a good showing with the bat in the second innings a whitewash looks inevitable!
Photograph: BCCI