A couple of days ahead of the fourth and final Test in Delhi, Ed Cowan had conceded that the inability of Australia's batsmen to carry on after getting starts was proving the major difference between the two teams on the ongoing India tour.
On Friday, the first day of the fourth and final Test at the Kotla, in Delhi, it seemed the visitors had not learnt from the mistakes of the previous matches as the middle order again failed to come to the party. It left the team struggling for survival on 231 for 8 by stumps.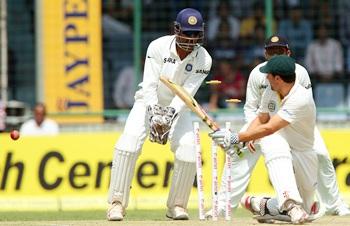 And it is Ed Cowan who has to take most of the blame. His dismissal proved to be the turning point of the day.
Australia recovered from the early dismissal of David Warner and were 94 for 2 at lunch, as both Cowan and Shane Watson appeared to have the measure of the pitch, which offered a lot of assistance to the spinners right from the start.
But a rare moment of carelessness brought about the Aussie opener's downfall.
Cowan took the risk of playing across the line and tried to sweep Ravichandran Ashwin, who was bowling over the wicket and turning it away. The left-hander missed the ball and was bowled around his legs for 38.
His wicket followed that of Watson's soon after.
Then the floodgates opened. Australia lost as many five wickets in 38 overs in that session for the addition of just 59 runs and found themselves in a spot of bother.
It was only a late rally from the tailenders that helped take their first innings to Day 2.
Photograph: BCCI