The struggling Australian cricketers have been offered professional counselling to prepare well for the third Test against India and come to terms with the axing of four teammates, including vice- captain Shane Watson.
Sports psychologist Michael Lloyd flew to Mohali, the venue for the third Test beginning on Thursday, to work with players following Australia's 10th worst defeat in their 136-year history in the second Test, reported News Limited.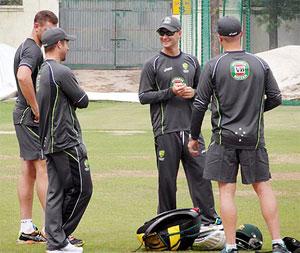 Lloyd's arrival has come at a time when the visitors are coping with an unprecedented sacking of four key players on disciplinary grounds, which included Watson, pacers Mitchell Johnson and James Pattinson, and batsman Usman Khawaja on Monday.
Lloyd works across several CA-affiliated teams.
"Before the tour, we identified this as a good opportunity for him to work with guys before the second and third Tests," a Cricket Australia spokesman said.
"Michael works across a lot of our programs and a lot of our teams. He is familiar with a lot of the players. It was a pre-planned arrangement, it's nothing to do with the past two days. Some of the players have existing relationships with him.
"Not everyone has to speak to him but he is here if the players want to seek some help," the spokesman added.