India 'A' registered a thumping innings and 13 runs victory over South Africa 'A' on the fourth and final day of the unofficial first Test to take a 1-0 lead in the two-match series, in Rustenburg, on Tuesday.
Continuing their dominating show, India's bowlers shot out South Africa for 212 in their second innings, after making them follow-on at Olympia Park earlier in the day.
Seamers Mohammed Shami (3-29) and Ishwar Pandey (3-25) picked three wickets each while part-time spinner Rohit Sharma scalped two.
Middle-order batsman Temba Bavuma (65) was South Africa's top-scorer in the second innings. His 138-ball knock was laced with six fours.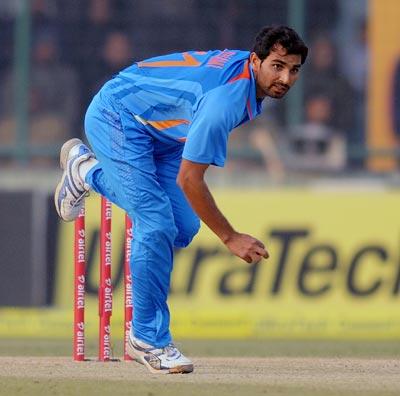 Resuming at the overnight score of 312 for 9, Kyle Abbott (33 not out) and Andrew Birch (18) provided late resistance before Suresh Raina had the latter trapped leg before to end South Africa's first innings at 357.
After asking South Africa to follow-on, India's frontline quicks struck early, with Pandey dismissing Reeza Hendricks (4) in the third ball of his first over.
Shami then struck twice in the sixth over, dismissing Dean Elgar (3) and J P Duminy (0), in the space of four deliveries.
Newman Rilee Rossouw (34) tried to break the shackles and hit three boundaries in the 10th over, bowled by Shami. He perished just when he looked good for a big knock, dismissed in the 20th over by Raina, who castled his timbers as he went for a sweep shot.
Bavuma scored a couple of boundaries in the 23rd over off Raina, while Ontong (19) hit two fours off Shami in the 25th over.
But Shami came back strongly to clean up Ontong with the fourth delivery of the same over as South Africa slipped to 93 for five.
Pandey took his second wicket in the form of Tsolekile in the 35th over and then Nadeem got rid off Wayne Parnell (10) as South Africa slumped to 140 for 7 in 41.4 overs.
At tea, South Africa needed another 84 runs to make India bat again, with three second innings wickets in hand. Temba Bavuma and Simon Harmer were at the crease at the break.
After the interval, Bavuma despatched Nadeem through mid-wicket and cover for a couple of boundaries. He then cracked another four off the left-arm spinner, driving him through point and cover in the 48th over.
Part-time spinner Sharma was then introduced into the attack by Chetestwar Pujara and the move paid off as Bavuma (65), in pursuit of a pull shot, hit it straight to the India skipper at mid-wicket.
Abbott (14) and Harmer (31 not out) tried to ease the mounting pressure with a couple of hits to the fence.
Sharma returned for his second spell and dismissed Abbott, who induced an edge to wicketkeeper Wriddhiman Saha.
Birch then picked a four off Sharma but Pandey cleaned up the batsman in the 67th over to complete a deserving victory for India 'A'.
Scorecard
India 'A' (1st innings): 582 for 9 decl
South Africa 'A' (1st innings):
R Hendricks c Saha b Unadkat 10
D Elgar lbw b Mohammed Shami 11
S R Harmer c Saha b Pandey 22
RR Rossouw lbw b Raina 57
J P Duminy c Saha b Raina 84
T Bavuma c Raina b Nadeem 0
J L Ontong c Saha b Pandey 47
T L Tsolekile c Dhawan b Pandey 47
Wayne Parnell c & b Pandey 0
K J Abbott not out 33
A C R Birch lbw b Raina 18
Extras: (B-3, LB-9, W-6, PEN-10) 28
Total: (all out; 111.2 overs) 357
Fall of wickets: 1-18, 2-22, 3-94, 4-116, 5-119, 6-194, 7-280, 8-280, 9-312.
Bowling: Jaydev Unadkat 21-6-53-1, Mohammed Shami 16-2-53-1, Shahbaz Nadeem 32-5-115-1, Ishwar Pandey 19-6-46-4, Suresh Raina 13.2-3-40-3, Rohit Sharma 10-1-28-0.
South Africa 'A' (2nd innings) (following on):
RR Hendricks b Pandey 4
D Elgar lbw b Mohammed Shami 3
RR Rossouw b Raina 34
JP Duminy lbw b Mohammed Shami 0
T Bavuma c Pujara b Sharma 65
JL Ontong b Mohammed Shami 19
TL Tsolekile b Pandey 23
Wayne Parnell c Dhawan b Nadeem 10
S R Harmer not out 31
K Abbott c Saha b Sharma 14
A Birch b Pandey 4
Extras: (B-1, LB-3, w-1) 5
Total: (all out; 66.5 overs) 212
Fall of wickets: 1-4, 2-15, 3-15, 4-60, 5-93, 6-123, 7-140, 8-166, 9-198.
Bowling: Ishwar Pandey 9.5-2-25-3, Mohammed Shami 10-3-33-3, Jaydev Unadkat 10-1-27-0, Suresh Raina 12-1-39-1, Shahbaz Nadeem 17-2-65-1, Rohit Sharma 8-3-19-2.
Image: Mohammed Shami