Australian opener David Warner has recorded a series of milestones with his impressive performances in the Tests against South Africa, etching his name along with other Australian and South African legends.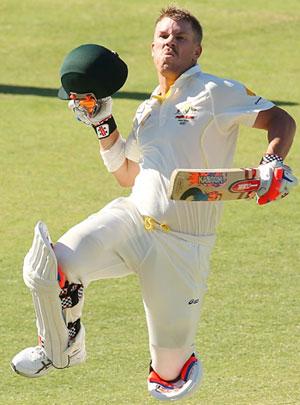 Warner wrapped up his batting contribution for the series against South Africa with an impressive century at Newlands, helping Australia set an imposing target of 511 for the hosts to chase in the third and deciding Test.
According to News.com.au, Warner's century, his second of the match after hitting 135 in the first innings, took his total runs for the series to 543 and capped a 'golden summer' for the left-hander by hitting a combined 1066 runs from the eight Test matches across this series and the Ashes.
Some of the milestones that Warner reached via his performances in South Africa are:
First player to score more than 500 runs in a three Test series in South Africa, finishing with 543 at an average of 91, with previous best being Jacques Kallis (498), followed by Adam Gilchrist (473).
The third-most runs by an Australian in a three Test series, behind Michael Clarke (576 v South Africa in 2012-13) and Matthew Hayden (549 v India in 2000-01).
The fourth Australian, and 10th overall, to hit five half-centuries in a three Test series. Other Australians to achieve the feat are Michael Clarke, Ricky Ponting, Mark Taylor and Greg Matthews.
First Australian to score two centuries in a match since Phillip Hughes did in South Africa in 2009.
Due to Warner, Australia's second innings run rate of 5.22 was the country's best run rate in any Test innings over 300.
Image: David Warner
Photo: Getty Images