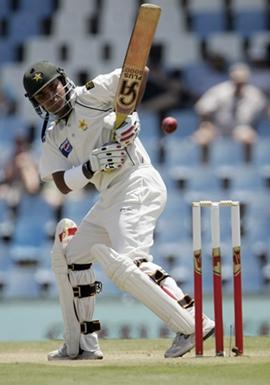 Imran Farhat stood tall amidst the ruins with a fighting century as New Zealand's pacers ripped through Pakistan's batting to dismiss them for 223 on the opening day of the third Test at McLean Park, Napier, on Friday.
Pakistan, who were reduced to 59 for five at one stage, did well to resurrect the innings somewhat and give their bowlers something to bowl at.
At stumps, New Zealand were 47 for no loss.
Farhat, playing his 30th Test, brought up his hundred off 135 deliveries shortly before tea. He carried his bat through the innings, finishing unbeaten on 117 from 169 deliveries 
Pakistan who won the toss and elected to bat on a flat pitch, succumbed to the pace battery of Ian O'Brien (4/35) and Daryl Tuffey (4/52).
It was not that the pitch had any demons in it; it was just that Pakistan's top order failed to curb their natural instincts and grind out an innings. Only Misbah-ul Haq, was taken out by a difficult delivery; the rest were simply not good enough.
New Zealand's opening bowlers bowled a nagging line and length. Tim Southee, celebrating his 21st birthday, drew first blood with the early wicket of Salman Butt, who left a gap between bat and pad and had his middle stump disturbed.
O'Brien then had Faisal Iqbal fending at a delivery outside off-stump to give the slip cordon an easy catch.
Skipper Mohammad Yousuf was tied down with disciplined lines and lengths, but eventually succumbed to the extra bounce, edging the ball to second slip.
A 69-run partnership for the seventh wicket between pace bowler Mohammad Aamer and Frahat revived the flagging innings.
Farhat, who had a previous best of 35 in the series, displayed the same risky tendencies as his team-mates but was fortunate that his top edges and slogs fell safely.
Aamer compiled a composed 23 from 82 balls, his resistance ending when Brendon McCullum's second catch gave Daryl Tuffey his first wicket.
Farhat had Umar Gul (13) for company as Pakistan got past 200.
In the 19 overs before bad light stopped play, New Zealand put up 47 without loss, their highest opening partnership of the series.
Tim McIntosh (31) and debutant Bradley Watling (13) both enjoyed reprieves. McIntosh successfully called for the umpire decision review process after being adjudged leg before wicket to Mohammad Asif by umpire Billy Doctrove when yet to score .
Then there was doubt that Watling was caught at the wicket on 10, but Pakistan did not refer Doctrove's rejected appeal to third umpire Simon Taufel.
Scorecard
Pakistan (1st innings):
Imran Farhat  not out  117
Salman Butt  b T Southee  9
Faisal Iqbal  c M Guptill b I O'Brien  6
Mohammad Yousuf  c T McIntosh b I O'Brien  0
Umar Akmal  c M Guptill b I O'Brien  0
Misbah ul-Haq  c B McCullum b I O'Brien  0
Kamran Akmal  c M Guptill b C Martin  22
Mohammad Aamer  c B McCullum b D Tuffey  23
Umar Gul  c B McCullum b D Tuffey  24
Mohammad Asif  c B McCullum b D Tuffey
Danish Kaneria  c B McCullum b D Tuffey  16.
Extras:  (B 0, Lb 2, Wd 0, Nb 4)  6
Total: (for 10 wickets in 64.3 overs)  223
Fall of wickets: 1-14, 2-39, 3-43, 4-51, 5-51, 6-90, 7-159, 8-194, 9-194, 10-223.
Bowling: C Martin 9-0-37-1, T Southee 17-4-62-1, I O'Brien 15-5-35-4, D Tuffey 15.3-4-52-4, D Vettori 8-0-35-0.
New Zealand (1st innings):
T McIntosh  not out  31
B Watling  not out  13.
Extras: (B 0, Lb 0, Wd 0, Nb 3)  3
Total: (for 0 wicket in 19.0 overs)  47
Bowling: Mohammad Aamer 7-3-8-0, Mohammad Asif 5-1-11-0, Umar Gul 5-0-20-0, Danish Kaneria 2-1-8-0.
Teams:
New Zealand: TG McIntosh, BJ Watling, MJ Guptill, LRPL Taylor, DR Flynn, DL Vettori (captain), BB McCullum, TG Southee, IE O'Brien, DR Tuffey, CS Martin.
Pakistan: Imran Farhat, Salman Butt, Faisal Iqbal, Mohammad Yousuf (captain), Umar Akmal, Misbah ul-Haq, Kamran Akmal, Mohammad Aamer, Umar Gul, Danish Kaneria, Mohammad Asif.