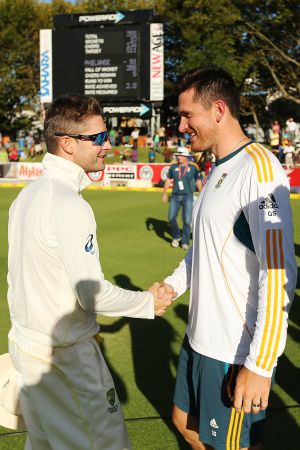 The International Cricket Council (ICC) congratulated South Africa's Graeme Smith for his glorious career, saying he has been an inspiring sportsman and would go down in cricket's history as one of its most respected captains.
"On behalf of the ICC, we congratulate Graeme Smith on his retirement following a very impressive and successful international career," said ICC chief executive David Richardson.
"Graeme featured in a number of memorable matches for South Africa and led his country in a world record 109 Tests, as well as 150 One-Day Internationals. He will no doubt go down in cricket's history as one of its most respected captains and opening batsmen."
Skipper Smith bid adieu to international cricket at the end of third and final Test against Australia which his side lost by 245 runs at Newlands, Capetown.
"Batting at the top of the order is not an easy job but his determination to succeed is reflected in his career statistics and record of success, particularly in leading South Africa to the top of the Test rankings. The way he matured as a captain, encouraged his side to play hard but fair, be humble in both victory and defeat, was a great example to all," the ICC said in a release.
"The ICC thanks Graeme for his contribution to the sport and wishes him well in his future endeavours," Richardson said.
Smith made his Test debut against Australia almost 12 years ago at Newlands - the same venue and against the same opposition as he is playing his final Test. He scored 9,265 Test (average 48.25) and 6,989 ODI (average 37.98) runs.
Smith played his first ODI against Australia in Bloemfontein on March 30, 2002 while his final ODI was against Pakistan at Port Elizabeth in November 2013. Smith also played 33 T20Is between 2005 and 2011.
Image: Australian skipper Michael Clarke shakes hands with Graeme Smith
Photograph: Morne de Klerk/Getty Images